Learn why Kentucky-based Hubbuch & Company hasn't changed a light bulb in almost three years
Like most businesses, Hubbuch & Company wanted to find ways to reduce its operating costs and pinpoint areas to reduce its energy usage.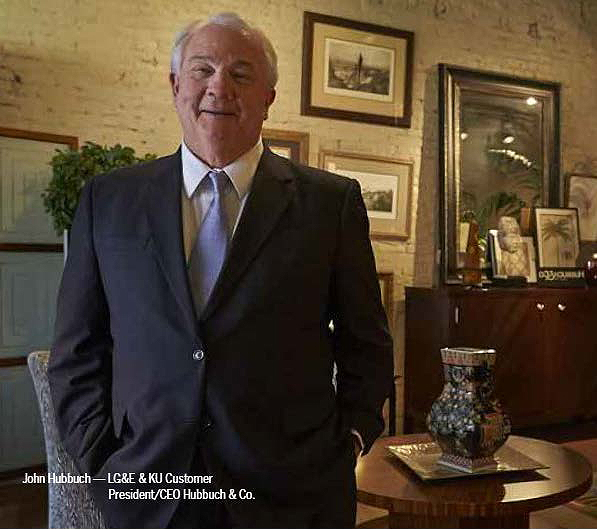 Established in 1933, Hubbuch is a family-owned and operated business founded by the father of current company President and CEO John Hubbuch. The multi-disciplined architecture and interior design firm has headquarters in Louisville and a branch office in Lexington.
"A few years ago, we requested a commercial energy analysis from LG&E and KU," said John Hubbuch, president and CEO. 
During this on-site inspection through Louisville Gas and Electric Company and Kentucky Utilities Company, Hubbuch got the recommendation to replace its old, inefficient lighting. In total, the company replaced more than 200 standard light bulbs with more energy-efficienct compact fluorescent lighting alternatives.
The utilities' Commercial Rebate Program also helped offset the company's costs after purchasing the more energy-efficient upgrades. After submitting applications and proof of purchase, as required to participate in the program, Hubbuch received a rebate check for more than $2,000.
The unexpected benefits
In addition to realizing energy savings and the $2,000 rebate, the company has seen dramatic improvements in its day-to-day lighting maintenance and expenses.  
We used to replace about 10 bulbs a week. It's been almost three years, and we still haven't had to replace a single energy-efficient bulb, said Hubbuch.
As much as 40 percent of a typical commercial facility's overall energy usage may be attributed toward lighting, and according to ENERGY STAR®, today's high-efficient lighting fixtures use about one-fourth the energy of traditional lighting.
Offset the upgrade costs  
All LG&E and KU commercial customers are eligible for up to $50,000 in rebates per year, per facility, to help offset the purchasing costs of more energy-efficient products and equipment.
Rebates are available for lighting, air conditioning systems, motors, pumps, variable frequency drives and customized improvements that save at least one kilowatt of peak energy load.
From the utilities' viewpoint
LG&E and KU provide customers with tools and resources to help them better manage energy usage and reduce energy consumption, and customer participation in energy efficiency programs offsets part of LG&E and KU customers' growing energy demand, which can help delay the need for constructing additional generation.
"When we assess least-cost options as part of our long-term planning process to provide customers with the energy they need, we factor in the energy efficiency programs' ability to help them voluntarily reduce their energy usage and consumption," said David Huff, Director of Customer Energy Efficiency and Smart Grid Strategy for LG&E and KU.
To date, the portfolio of commercial and residential programs has been able to offset about 300 megawatts of demand. 
Are you an LG&E and KU business customer? Visit LG&E and KU online to sign up for programs available to help your business.
Apply Now 
Be sure to have your account number and tax ID or social security number handy.
Eligible rebate items and amounts have changed since this story published. Please visit lge-ku.com/bizrebates for the current rebate categories and amounts.