For large indoor sports complexes, like Lexington Tennis Club, facilities include features like vaulted ceilings, open floor plans, ample lighting and lengthy hours of operation. While these features are extremely appealing to members, they also can serve as challenges for facilities managing their energy use. 
Lexington Tennis Club, one of the largest indoor tennis facilities in the United States, operates 364 days per year, from 6:30 a.m. to 11 p.m. Three buildings house 15 indoor air-conditioned tennis courts and amenities including: a pro shop, fitness facility, babysitting area and pool.
Controlling and maintaining a consistent temperature in large open buildings can be difficult, and lighting is paramount for an indoor sports complex. Lexington Tennis Club previously used metal halide lighting fixtures, totaling 180 light bulbs, for its courts.
 "It's tennis. You have to be able to see, and the brighter lighting helps," described Ralph Currie, Lexington Tennis Club chief financial officer and part owner. While the tennis club is diligent about turning lights off when the courts are not in use, the facility operates nearly around the clock.
 The tennis club worked with Lexington-headquartered Big Ass Fans to install 24-foot industrial ceiling fans and upgraded lighting to improve efficiency.
 Because the tennis club is a Kentucky Utilities Company commercial customer, the lighting improvements qualified for about $16,000 in rebates through the utility's commercial rebate program. The program is available to commercial customers of KU and Louisville Gas and Electric Company by application and offers rebates of up to $50,000 annually per facility to help offset eligible energy-efficient upgrade costs.
Improvements.
According to Currie, reconfiguring the locations of more efficient lighting fixtures using fluorescent bulbs has maximized the lighting coverage on the courts, decreasing the number of previously needed lighting fixtures by about 20 percent.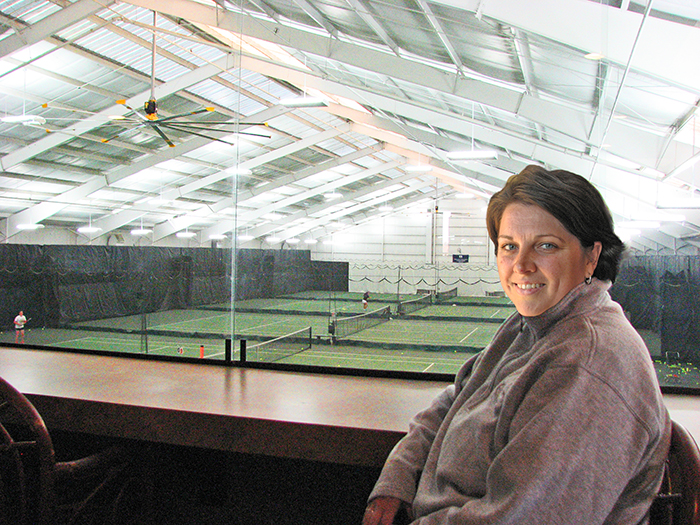 In two of the three buildings, Currie said electric usage is down by about 20 percent compared to the same time last year, and he noted electric bill decreases - as much as $2,000 in one month.
Using the new fans, Currie said, "In the summertime when it's warmer, they allow us to turn up the thermostat and create a breeze. In the winter, the fans will help push down and circulate the naturally rising warm air."
Effective long-term
follow-through.
 While Currie noted monthly energy improvements, he also anticipates light-bulb expenses decreasing over time. The previous bulbs in the metal halide fixtures were known to discolor and expire within four to 12 months, costing about $10,000 to $12,000 annually to replace. The new fluorescent bulbs' lifespan is guaranteed for five years.   
"It was an incredibly inefficient system. It's an ancillary benefit to have the longer lifetime of the bulbs," said Currie.     
"Where we really expected the greatest efficiency was a significant reduction in electricity use; we have realized that," said Currie. "The lights are wonderful, and the fans have worked out really, really well."
Apply Now 
Be sure to have your account number and tax ID or social security number handy.
Eligible rebate items and amounts have changed since this story published. Please visit lge-ku.com/bizrebates for the current rebate categories and amounts.