Each year during National Engineers Week, we celebrate the many contributions that engineers bring to our industry. These are vital roles across our company from power plants and gas storage facilities to operations centers and control centers.
This week we'll introduce you to some of the many engineers at LG&E and KU.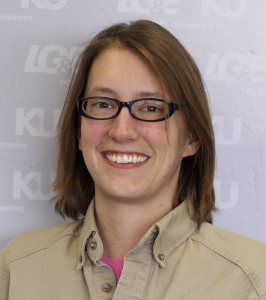 Lesley Hill
Title: Mechanical engineer II
Location: E.W. Brown Station
Years of Service: Five years

Why did you apply at LG&E and KU?
I am a second generation KU employee, so I knew the company valued its workers and offered a stable career. People here treat each other like family. Also, LG&E and KU offer many different engineering career options, so I knew there would always be something available to me and opportunities for advancement.
Where did you attend college?
University of Kentucky; Bachelor of Science degree in agricultural engineering
What previous positions did you hold?
Before KU, I worked as a process engineer and production supervisor for a manufacturer in Indiana. My first position within the company was as a laboratory technician at Cane Run, and I accepted my current position at Brown a year later.
What types of responsibilities do you have in your current position?
I currently oversee maintenance and mechanical projects for seven natural gas combustion turbines at E.W. Brown Station and help coordinate the station's Process Safety Management program for the anhydrous ammonia we have stored on-site. We also operate and maintain one of the highest-pressure gas transmission lines in the state of Kentucky, which feeds our combustion turbines. I am responsible for making sure that all required maintenance is completed on the pipeline, and that proper records are maintained, so we can continue to operate the pipeline to the high standard of safety expected of LG&E and KU. A large portion of my job is to ensure that we operate equipment in the safest way possible, and I take that responsibility very seriously.
What are some of your contributions to the company?
I am proud to consider myself part of the next generation of LG&E and KU employees. One of my contributions is to try and absorb as much knowledge as I can from the people who have worked here many years and use that to help the company operate as safely and efficiently as it has in the past. I hope to be able to contribute what I learn from the people I work with to help solve the problems of the future.
What do you like about working at LG&E and KU?
Like I said before, working with people at the plant is like working with family. We take care of each other, we laugh with (and sometimes at) each other and occasionally we disagree with each other. But at the end of the day, we all care about seeing each other go home safely.
I also enjoy the unique challenges that my job offers. E.W. Brown is unique in that we have hydro, coal, natural gas and — soon — solar power generation assets. Some of the projects I get to work on are not found anywhere else in the company, or in some cases, the entire power generation industry.
How has the company assisted you with tuition or other support for your education and/or career development?
I had always planned on getting some type of advanced degree, but I decided to have a family and put that on hold for the time being. It is nice to know that when I decide to pursue that, the company offers tuition support to help make that happen. The company also offers many options to help develop its employees' leadership and management potential, and I have been lucky enough to be involved in some of those programs, like our Front-Line Leader program through Indiana University Southeast and our formal mentoring program.
What has been your most memorable day since working at the company?
One of the most memorable days was working with the LG&E Gas Department to make a weld repair on our gas pipeline (see photo below). What makes it so memorable is that the repair was done on a section of pipe suspended on the side of a cliff, and it was about 40 degrees outside and rainy. It was one of those projects that I'd have never gotten to witness anywhere else.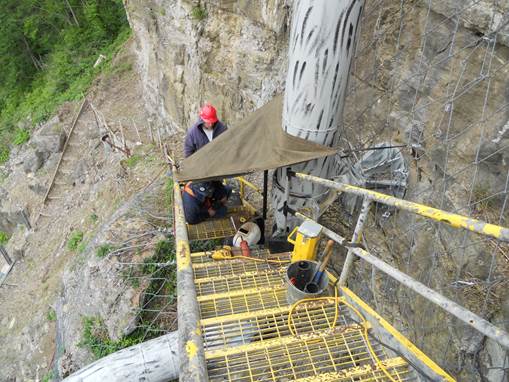 What sort of employee does particularly well at LG&E and KU?
I think to be successful at LG&E and KU, a person has to be adaptable, innovative and able to handle many different situations. I have always said that a good engineer also has to listen to the people who actually will be operating the equipment, so the ability to take all of that into account is very important too. Also, having a good sense of humor doesn't hurt.
How does the company take care of its employees?
In a lot of ways; from compensation and benefits that are hard to beat, to initiatives to keep employees and their families healthy, to allowing us time to just have fun at work (Power of One rallies, etc.). But one of the main ways is by promoting and believing in a culture of safety, so that each employee knows that, from the CEO to an hourly contractor on his or her first day, safety is paramount.
What would you say to potential applicants to LG&E and KU?
That you've picked a great place to seek employment, to relax and be yourself if you are chosen to interview for a position, and to not be so nervous that you leave your car running the entire time you're being interviewed. I know that from personal experience. Luckily, I still got the job and can laugh about it now.
What have been some of your favorite projects?
I like projects that help make a difference in the site. We just installed a system on some of our units last summer that should greatly reduce outage time and increase unit availability on our secondary fuel. Last spring, we installed new piping and valves that decreased the time it takes to switch fuels on some of our units from eight hours to about 30 minutes. We also worked with the LG&E Gas Engineering Department to install new regulators at our gas pressure reducing station, to allow for better pressure control at low flow rates. Since the installation, we have had zero unit trips due to gas pressure swings. Seeing results like that from projects you are involved in is very rewarding.
How have you been able to use your engineering education on the job?
My degree in agricultural engineering has been very helpful in my current position. I get asked frequently why I am not growing corn in Iowa or building John Deere tractors, but actually the mixture of chemical and mechanical studies I completed in college has been very beneficial. Gas turbines convert chemical energy into mechanical energy, so having a solid background in both worked to my advantage.
Also, I think one of the most important things an engineer should take away from college is not necessarily all the theory, but the ability to solve problems. Sure, remembering Bernoulli's equation may come in handy sometimes, but if all else fails you can use a textbook for that. Being able to use what you know to work out a complex, real-life problem is very important.
How does the company support its engineers?
In many different ways, including tuition assistance, career development initiatives and continuing education, to name a few. The Talent Management Department even has an "engineering toolbox" set up on the intranet to allow engineers access to all of the different support initiatives the company has set up. It makes my job much easier knowing that the company wants to see me succeed.