The Kentucky State Fair is underway, and LG&E and KU volunteers are there to greet fairgoers and celebrate this annual event, which runs through Aug. 30.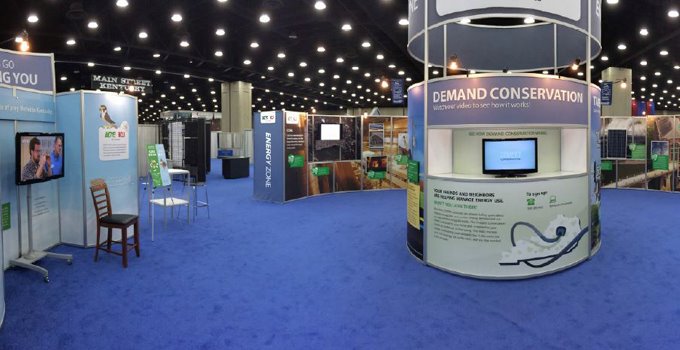 This year's exhibit builds upon the popularity of the "Energy Zone," which was first unveiled during the 2013 state fair, and incorporates a few new educational components.
The booth's physical layout includes four quadrants and one center section. The outside of each quadrant contains a question, which engages visitors to seek out the answer found on the respective inside panel. The booth provides information about coal-fired generation, natural gas, renewables, environmental efforts, safety and energy efficiency.
New this year is a panel dedicated to our Demand Conservation program. The panel includes a new animated video that helps explain peak demand in a simple and understandable way. Fairgoers will be encouraged to take literature about the program and later sign up to earn summer bill credits.
Also new this year is an actual 27-foot-long baghouse filter to help bring to life one of the new technologies we are installing on select coal-fired units. A solar panel directs fairgoers to more information on the company's planned 10-megawatt solar facility at E.W. Brown, and an enclosed case of coal provides a closer look at the fuel that helps keep our rates among the lowest in the nation.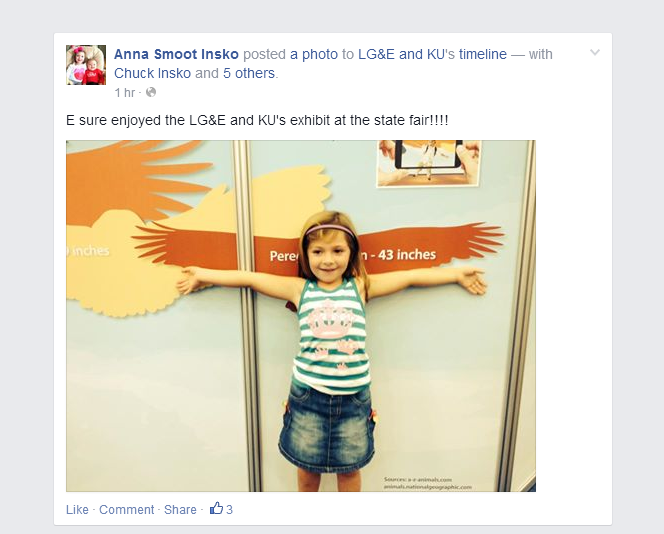 LG&E and KU's strong partnership with Raptor Rehab and the Kentucky Department of Fish and Wildlife Resources also will be featured with a video about peregrine falcons. Fairgoers can meet a Raptor Rehab representative and feathered friend from 11 a.m. to 2 p.m. on Aug. 29. While you're there, be sure to participate in the "compare your wingspan" contest to win two tickets to Kentucky Kingdom.
Our booth is located on "Main Street Kentucky" in South Wing B at the Kentucky Fair and Exposition Center. As usual, Louie the Lightning Bug will make special appearances and greet attendees throughout the event. Those who visit the LG&E and KU booth have an opportunity to pick up a falcon fan, outage texting flashlight, plastic hard hat or customer service magnet (while supplies last).