One of Kentucky's leading business publications, The Lane Report, recently profiled LG&E and KU's perspectives on the Clean Power Plan in their "Faster Lane" e-newsletter.
Kentucky's utilities delivering more energy with less emissions, but significant challenges remain.
The nation's energy sector is renowned for innovative solutions; pioneering complex equipment for instantaneous power delivery and revolutionizing the industry, time and again. Utilities are delivering power more safely, reliably and cleaner than ever before.
This August, the U.S. Environmental Protection Agency released its much-anticipated final rules for the Clean Power Plan, establishing targets to cut the nation's electric power greenhouse gas emissions by 32 percent from 2005 levels, with interim targets that must be met beginning in 2022.
In the final rule, each state was assigned its own set of targets based on regional emission performance rates. States have one year to submit their initial plans and have been given until 2018 to submit their final plans to meet their respective targets.
Kentucky's power plant targets were tightened even further since the rule was proposed in 2014. Going from a proposed emission reduction target of 18 percent by 2030 to a reduction of more than 40 percent (when compared to rates in 2012) by the same deadline. Kentucky now has one of the most difficult targets to achieve.
While speculation swirls surrounding how the nation will meet these 2030 targets, state regulators and utilities are fully analyzing the rule in its entirety to better understand its requirements to meet the compliance timelines and carbon emission reduction targets.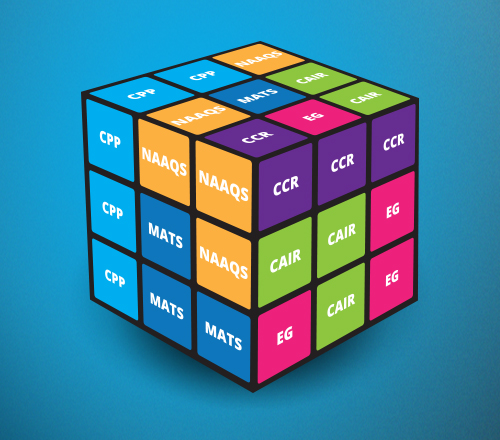 The energy industry is being called on again for its ingenuity and revolutionary solutions in order to balance the requirements established by the Clean Power Plan, all while still complying with a proverbial puzzle cube of other federal environmental regulations - including rules like the Mercury and Air Toxics Standards, National Ambient Air Quality Standards, Cross-state Air Pollution Rule (CSAPR) previously the Clean Air Interstate Rule, Coal Combustion Residuals Rule and future waste water guidelines.
What we know now
Here in Kentucky, LG&E and KU are in the midst of an unprecedented construction phase, investing nearly $3 billion in additional environmental controls across the utilities' remaining coal-fired generating units. These comprehensive plans include additional emission controls to further reduce sulfur dioxide and nitrogen oxide emissions, as well as installing state-of-the-art technology to control mercury and fine particulate matter.
This summer the utilities commissioned the new 640-megawatt natural gas combined-cycle generating unit, Cane Run 7, to help replace part of 800 megawatts of coal-fired generation the utilities first announced plans to retire back in 2011, which was needed to comply with more stringent federal environmental regulations.
The utilities' investments in emission control equipment have delivered outstanding results. From 1997 to 2018, the utilities' sulfur dioxide emission levels will drop by 80 percent, and nitrogen oxide emission rates will drop by 69 percent.
All of these actions combined also will decrease the utilities' long-term carbon dioxide emissions.
LG&E and KU are also making active investments in renewable energy facilities like their two hydroelectric plants. When renovations at Ohio Falls Hydroelectric Station are complete in 2017, the plant's output will boost by 27 percent. In addition, the utilities are constructing Kentucky's largest solar facility at the E.W. Brown Generating Station, which is expected to go online in 2016.
"While our utilities are headed in the right direction making prudent, cost-effective and thoughtful long-term decisions in how we generate electricity, it comes with continual challenges," said John Voyles, vice president of Transmission and Generation Services for LG&E and KU.
"The EPA has delivered a set of regulations, including the Clean Power Plan, which have and will require major transformations for states like Kentucky."
What's still being determined for the future
Under the final Clean Power Plan, the EPA favored expanding renewable energy sources and continuing to pursue natural gas and nuclear energy options. It also suggests development of cap-and-trade options that could allow certain states or generators to earn and sell carbon dioxide emission credits.
While the EPA previously projected Kentucky had a potential for renewable energy sources of approximately 2 percent, under the final plan it will require Kentucky to consider significantly more.
The full effects of the final rule and what operational changes are required - and at what cost - will not be known until the Commonwealth finalizes its compliance plan, which will guide utilities' plans moving forward. LG&E and KU, like other utilities, will work with Kentucky while the state develops its plan.
Learn more about the company's investments.