To celebrate "Careers in Energy Week," Oct. 12 – 16, we'll introduce you to some or our employees who represent LG&E and KU's dedicated and talented workforce. Careers in Energy Week highlights the value of skilled-trade jobs and the importance of the energy industry to the economy, and the employee profiles provide a little insight into some of the many people who keep the energy flowing for LG&E and KU and our 1.2 million customers.
The first profile features Laura Mohn, group leader of Engineering at Trimble County Station, who has been with the company for 15 years, starting out as a co-op at the Mill Creek Station.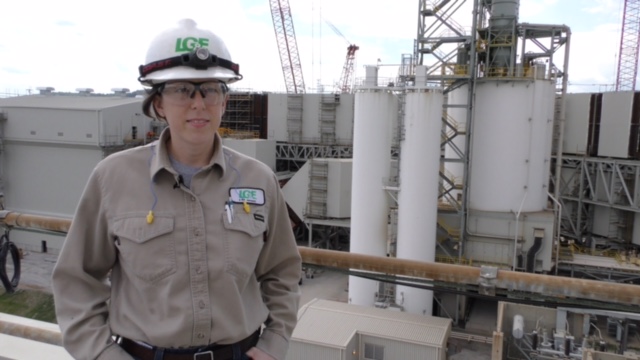 Describe your role with the company.
As an engineering group leader, I have a group of 10 engineers and usually three co-ops. We run projects at the plant; we look at improving the performance at the plant; we monitor the day-to-day operations -- how things are running. We're pretty much involved in the operations and maintenance of the plant.
What is a typical day like for you?
We have some days where we're working in the office and planning. But a lot of our days, we end up outside in the plant. It can be hot and dirty; it can be really cold sometimes. It's really important that people are safe, so we ensure that everyone has their proper PPE: safety glasses, hard hat and hearing protection when required. Sometimes we're doing inspections in confined spaces. It depends on the day. As an engineer, you're faced with different problems and learn problem-solving skills. Every day is different. It's always a new adventure.
What projects at Trimble County are you currently working on?
Currently we are building a baghouse as part of the environmental requirements. This is the last baghouse to be installed here at Trimble County. We already have one in another unit. Another big project is the installation of a natural gas pipeline so we can convert our start-up and stabilization fuel to natural gas, which is a great savings for our customers.
How does your work impact the customer?
The things we do to make our units run better is a direct cost savings to the customers. We don't deal with customers on a day-to-day basis. But when we talk with our neighbors and friends, we're representing the company; so when we talk about the things that we as a company are doing to make things better, it impacts our relationship with the customer.
What is the most fun aspect about your position?
It's the opportunity to be involved in so many parts of the plant. In an engineering role, we're involved in operations, maintenance, new major construction projects. We're always working to solve problems, there is always a new challenge and that is actually really exciting.