"Wow! The only sandhill cranes I've ever seen were flying." These were the first thoughts of Joe Ganote, electrical operator A, when he recently came upon a sandhill crane inside the LG&E Cloverport substation.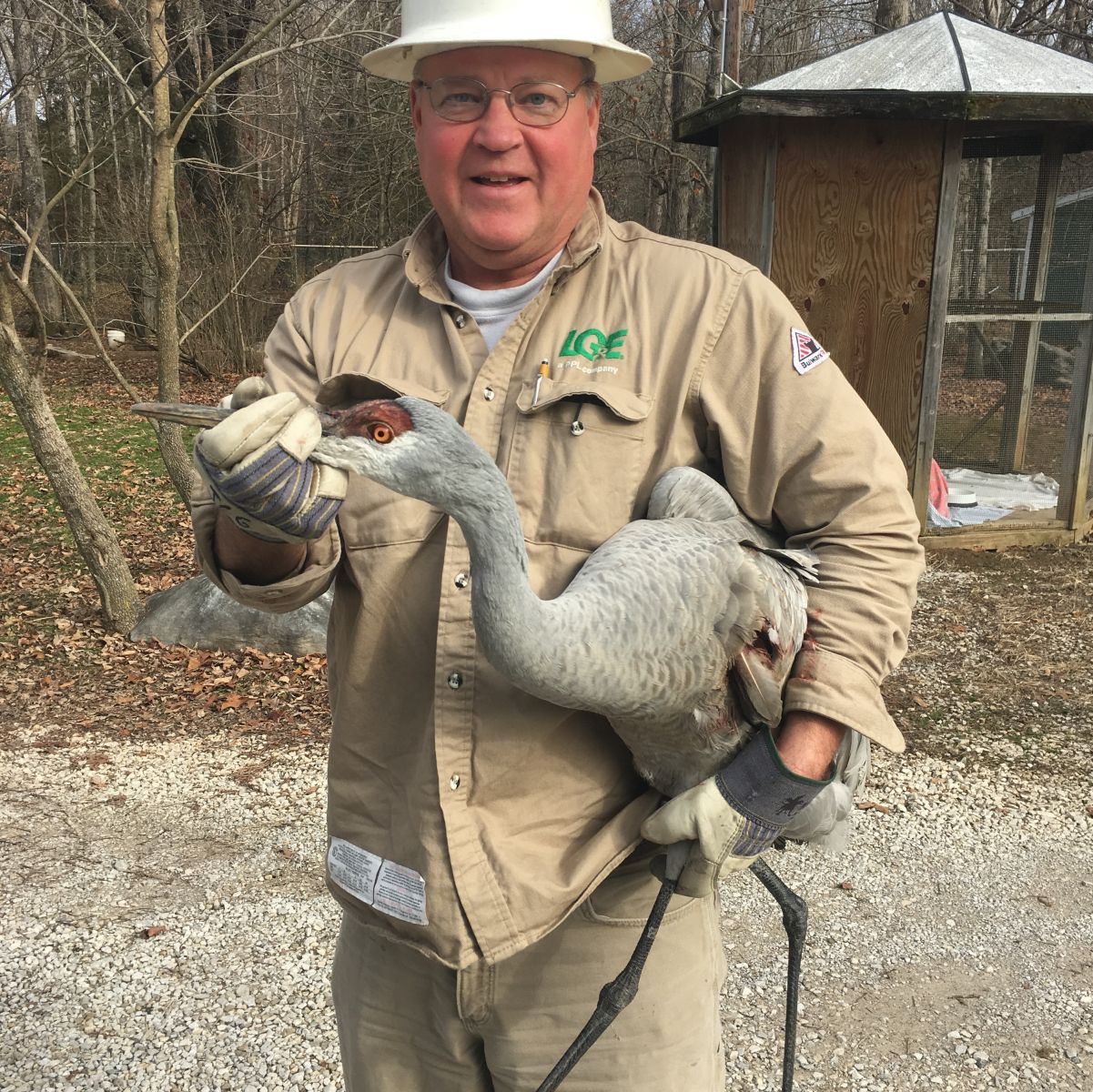 The tall, gray-bodied sandhill crane is known for its long neck and legs and very broad wings. While it's commonly found in North America, it dwells in Canada and travels through Kentucky along its migratory route to the southern United States.
Ganote recognized right away this was no ordinary situation and saw the crane had an injured wing, making it unable to fly out of the substation. Ganote immediately called to mind the company's Avian Protection Plan.
"It was obviously very hungry because it was turning over clumps of dead grass and leaves in search of food," Ganote said. "I was concerned that it might be able to get up into our steel work and cause an outage."
Adopted in 2008, the LG&E and KU Avian Protection Plan protects birds from coming in contact with electrical equipment and power lines and complies with avian protection regulations, while maintaining system reliability.
After contacting his supervisor, Brian Guy, team leader of Field Operations, and Sherry Pryor, senior environmental scientist who oversees the company's Avian Protection Plan, and nearby Meade County Wildlife Rehab Center, Ganote carefully transported the injured crane safely to the rehab center for medical attention. Unfortunately, the crane succumbed to its injuries and passed away at the rehab center.
In spite of the outcome, Guy and Pryor praised Ganote's prompt action. "Joe confronted the situation without hesitation," Guy said. "He not only showed compassion by assisting the injured crane, he also quickly assessed a potentially hazardous situation that could have disrupted power at the substation and impacted customers."
"Joe's actions were commendable," Pryor said. "He went above and beyond the requirements of the Avian Protection Plan to help an injured bird get proper care."
The Avian Protection Plan is managed by the Avian Protection Committee, comprised of employees from business areas companywide. The committee tracks avian-related issues across the company and updates the plan as needed to meet regulatory requirements.