"WiSE" students from Louisville-area middle and high school recently joined forces to learn more about STEM careers and share their passion for science, math and engineering topics.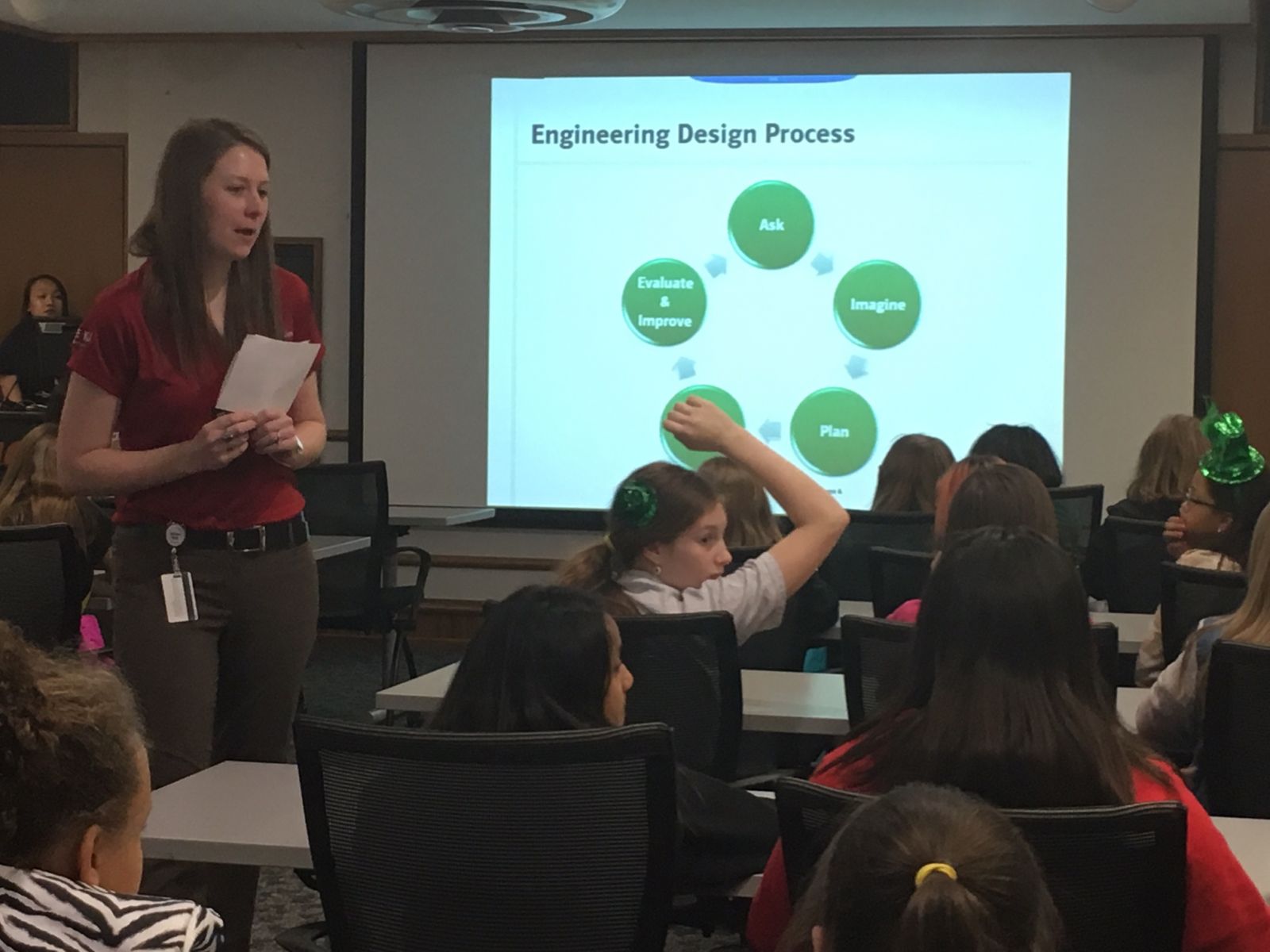 The 15th Annual Women in Science and Engineering (WiSE) Expo, held March 17 at LG&E and KU's Broadway Office Complex, gave local fifth-graders the opportunity to have fun with math and science and hear about women's success in science, technology, engineering and math (STEM) fields.
The expo, held each year during Women's History Month, was sponsored by the WiSE Club from Louisville duPont Manual High School and hosted by LG&E and KU. Members of the high school's club, which encourages female involvement in math and science classes, invited the grade-schoolers so they would begin thinking at an early age about careers in those fields. The event garnered excellent attendance and enthusiastic participation; 50 fifth-grader girls from Bowen Elementary School joined dozens of duPont Manual students for the half-day session.
Jennifer Price, civil engineer II, kicked off the event by sharing her educational path and career background. She also explained to the students what engineers do and how they help their communities.
The students then divided into groups and participated in four breakout stations facilitated by the WiSE Club members. During the Candy Crush engineering session, students used gumdrops and spaghetti to build structures. The math board races gave student teams the chance to win relay races by solving math problems. The science and math bingo session required players to answer science trivia questions and work math problems. At the science lab, students picked their favorite color to make silly putty.
This is the 15th year that LG&E and KU have hosted the event. Brooke Hartlage, staffing specialist – College Relations, who coordinates the company's co-op and intern program and engineer recruiting, said that the WiSE Expo spotlights LG&E and KU's many career opportunities for engineers and scientists.
"The WiSE Expo introduces many young students to possibility of a STEM career, and LG&E and KU are thrilled to sponsor this annual event," she said. "The young women from duPont Manual who lead the workshops see opportunities at our company and in our industry for them to pursue a career in science and engineering, and the younger girls see that our company is committed to promoting education in our community."