LG&E and KU employees not only provide dedicated service to our company, but make unique contributions off the job in their community.
Employee: Thomas Hohman
Title: Technology Support Analyst
Department: Technology Support Center (IT)
Location: Broadway Office Complex, Louisville
Years of service: 18 years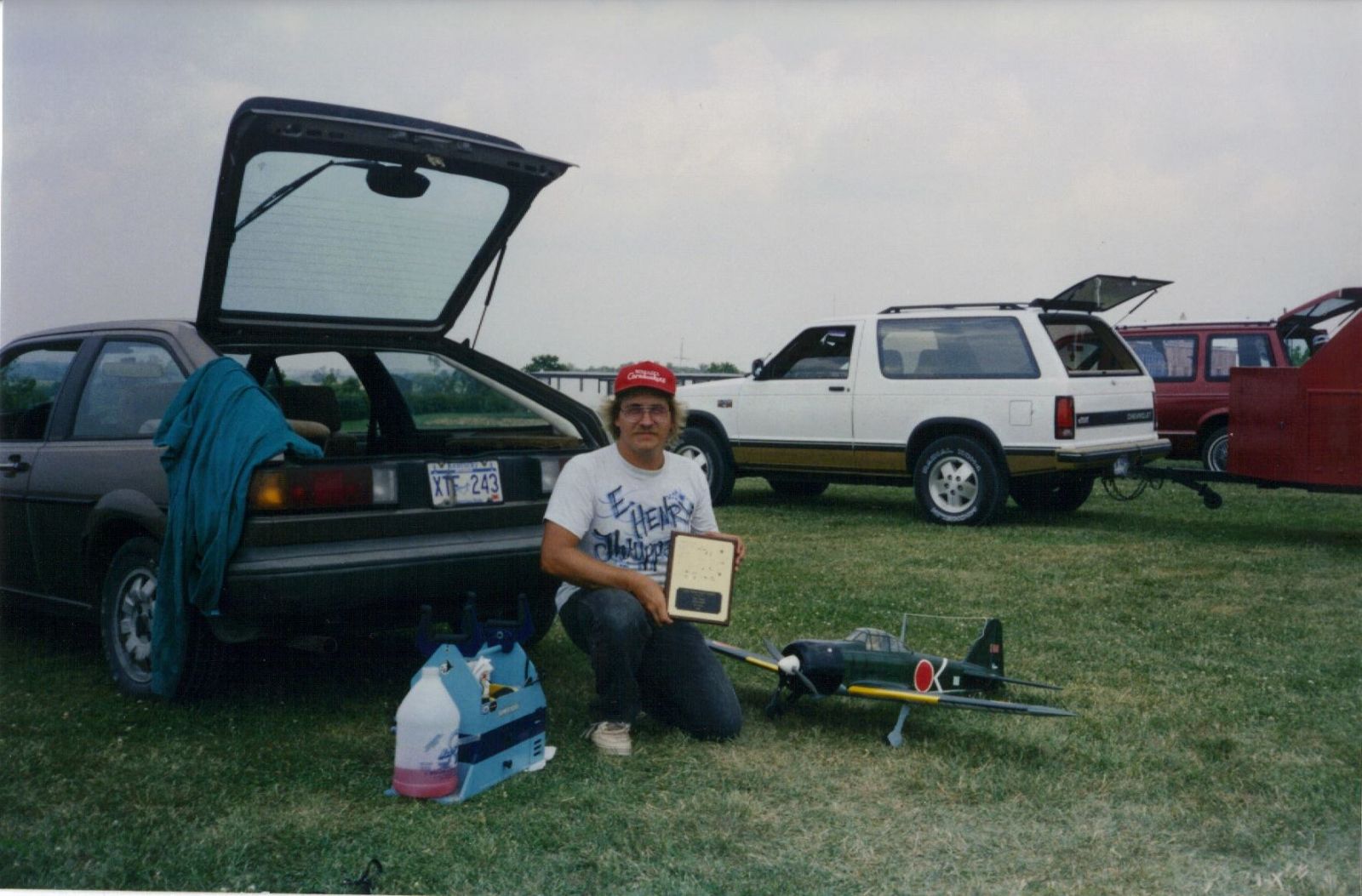 What's your special off-the-clock pursuit?
I enjoy building and flying radio-controlled model airplanes. I especially like WWII-era fighter planes. I'm a member of a club called River City Radio Controllers, and we fly at our airfield in E.P. "Tom" Sawyer State Park. The club has about 180 members, and we fly models of all kinds including biplanes, jets, trainers, aerobatic planes, helicopters — you name it!
When did you first begin building radio-controlled planes? How did you get started with the hobby?
Ever since I was a child I've been fascinated by all kinds of models — electric trains, slot cars, plastic model kits, and so on. But I've always most enjoyed airplanes. I would buy the little balsa wood gliders and fly them around until they broke. I couldn't afford radio-controlled models back then, so I would fly the control-line planes. Those are the ones that fly around you in a circle (and get you really dizzy). In 1979, I started college and finally scraped up enough money for a real radio-controlled plane! It was a small (36-inch wingspan) trainer plane with just two controls: the rudder for left/right and the elevator for up/down. I flew it in the football field next to UofL. Most flights were about 20-30 seconds before I would get disoriented and whack it into the ground! Then it was back home for repairs.
I took a break from the planes for a few years, but in 1990, I started up again with a new, bigger plane (63-inch wingspan). It was a kit built from balsa and thin plywood and covered with a thin plastic film. I joined the model airplane club and had some of the more experienced guys teach me how to fly. It's so much easier (and cheaper) when somebody helps you. I have advanced through the sport planes and now really like to fly the warbirds.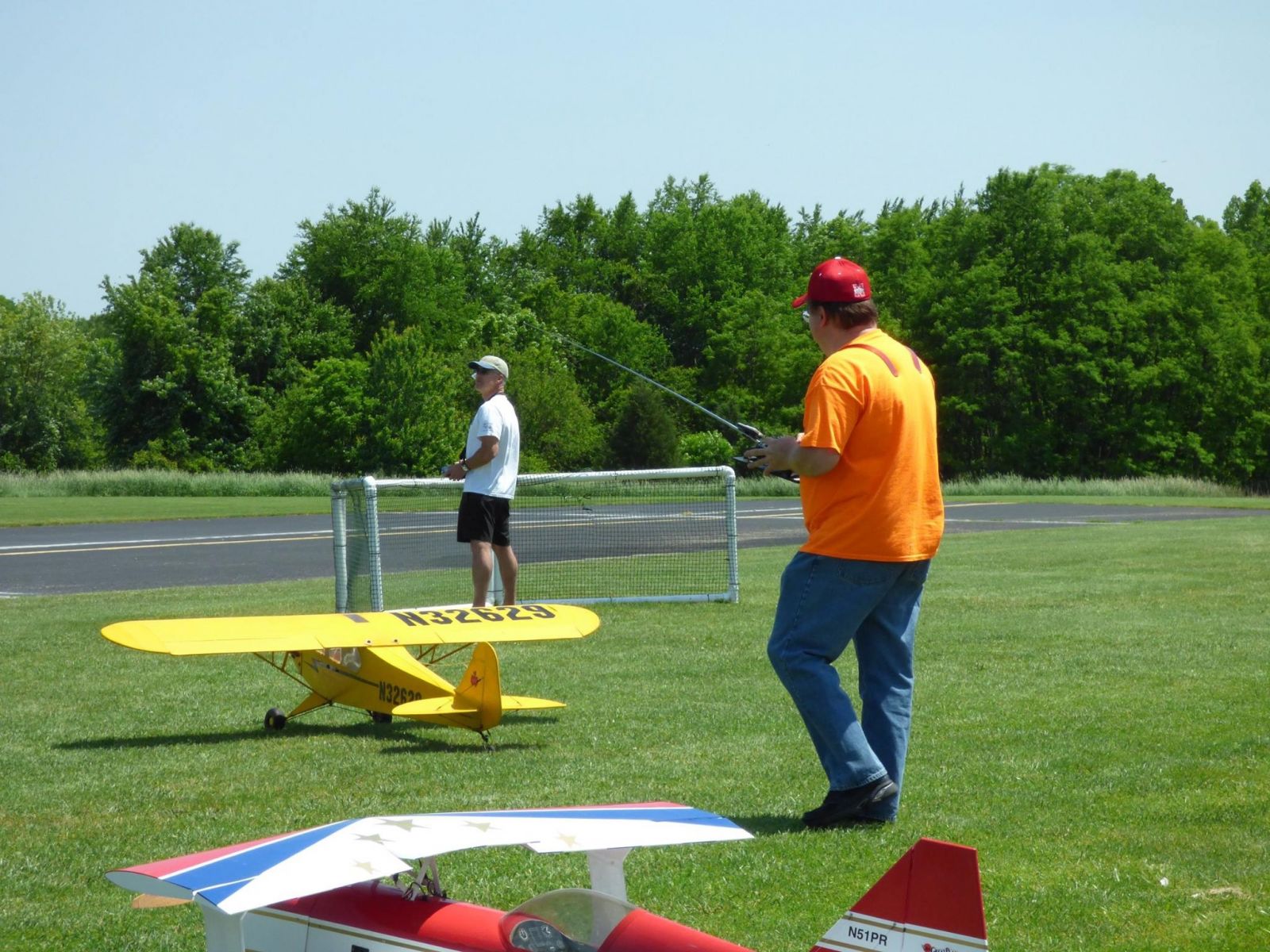 How many planes do you estimate you've built?
I've probably built about 20 different planes, mostly warbirds like my Spitfire Mk IX, a Fokker Triplane, an F4U Corsair, and a Messerschmitt Me-109, and a Japanese Zero (actually two of them). I have also built three trainers, at least three sport planes (simple, non-scale models) and other planes that I've finished or repaired for other pilots. And I have bought a lot of completed, ready-to-fly airplanes from others. I am currently working on a big P-51 Mustang and a P-40 Warhawk. I've lost count of the number that of planes I own!
Where and when do you typically showcase your planes?
I have Sundays and Mondays off from work, so if the weather is good I'll take one or two planes out to the field at Tom Sawyer Park around 3-4 p.m. and stay until 7-8 p.m.
What do you enjoy most about your hobby?
It's quite a challenge to build an accurate, working scale model of an historic airplane and then be able to actually fly it! When your plane is under complete control and you can tear across the sky, but then slow down and gracefully land on the runway, that's a huge thrill. With our club, I have dozens of good friends out there with the same interests. We laugh, joke around, share experiences and help each other out with problems. It's a very social club.
What is your most memorable moment?
I flew a Japanese Zero at my first model airplane contest in 1994. This was a "scale" contest so you are judged by how realistic your plane looks and how well you fly it. I was flying in the "fun scale" division (the planes aren't exact scale models, but you can tell what it is) with five or six other pilots. It was windy, and I was nervous. In the end, they tallied up the points, and I won first place! I still have the plaque.
Any special recognitions, awards or accomplishments you're particularly proud of?
As I said, I won first place at my first contest, but the next contest I flew my Spitfire and came in 13th. In my defense, there were 26 pilots in the division that time. Two years ago, I received the "Best Modern" award for my SU-27 Flanker jet. I'm also proud to be one of the few instructors in our club, so if you want to learn to fly I can help you!
Are there ways you incorporate your talent into your work life at LG&E and KU?
Not really. I'm still waiting for a call from someone wanting to learn how to do a stall turn or a half Cuban-8. But it does help me practice interacting and helping people.
What's the next event where your planes will be showcased?
I'll be flying my P-51 Mustang at the Wings For Kids Radio Controlled Airshow, June 3-4. The show runs from 11 a.m. to 5 p.m. on Saturday and 11 a.m. to 3 p.m. on Sunday. It's at our airfield in E.P. Tom Sawyer State Park in Louisville. The airfield is accessed from Hurstbourne Parkway, just a few blocks south of Westport Road. We're asking for a $3-per-person donation, and all money collected benefits Norton Children's Hospital. Not only will there be amazing radio-controlled aircraft, but there will be food, raffle items, aircraft simulators, face painting and more. It's a great show!
Is there anything else you'd like to add?
Radio-controlled airplanes are sure a lot of fun. Building them is a great hobby, but flying them is more like a sport. But watch out, it's addictive! You might end up with a basement full of airplanes like I have.