Energy improvements generate savings and more customized experiences for patrons
There's no question, Kentucky Venues must always perform at the top of its game to maintain its competitive advantage against stiff national event space competition. 
Its two major facilities — the Kentucky Exposition Center and the Kentucky International Convention Center — have a combined 2.1 million square-feet of event space plus outdoor demonstration sites, hosting clients from around the world and about 300 events each year.  
 
The venues generate what a recent economic impact study estimated at $483 million in economic impact annually, including some 1,600 full-time positions in the community. 
That's why its governing body, the Kentucky State Fair Board, is continually investing in its facilities to make operations more efficient and to customize the experiences of the venues' clients and patrons. 
"It's important for us to continue making upgrades that are not only desirable to the businesses they attract, but also keep the facilities relevant and modern," said Jason Rittenberry, Kentucky Venues president and CEO. "Clients look for new amenities and the ability to control their environment."  
Its Kentucky Exposition Center, which is currently undergoing various upgrades, is ranked the 6th leading convention center in the U.S. by size, and its Kentucky International Convention Center is currently undergoing renovations to increase its size by more than a third.  
 
Kentucky Exposition Center Upgrades
The Kentucky State Fair Board initiated its Energy and Efficiency Management Program in 2010 to reduce energy usage at the Kentucky Exposition Center and the convention center. 
 
"We are always looking to improve our customer experience," said Sam Ruth, KEC's executive director of Operations. "We look at projects that increase comfort levels for our patrons, while saving money. We also look at the sustainability of existing systems and consider equipment that has longer life cycles and less maintenance needs." 
Over the course of six years, the two facilities underwent a series of improvements that started first at KEC with lighting upgrades and moved into installing variable frequency drives to operate existing equipment more efficiently. 
Other improvements at KEC have included installing a 750-ton high-efficiency chiller; new high-efficiency equipment pumps, motors and boilers; automated controls; and equipment that regulates the facility's energy usage during certain times of the day. 
The results are impressive.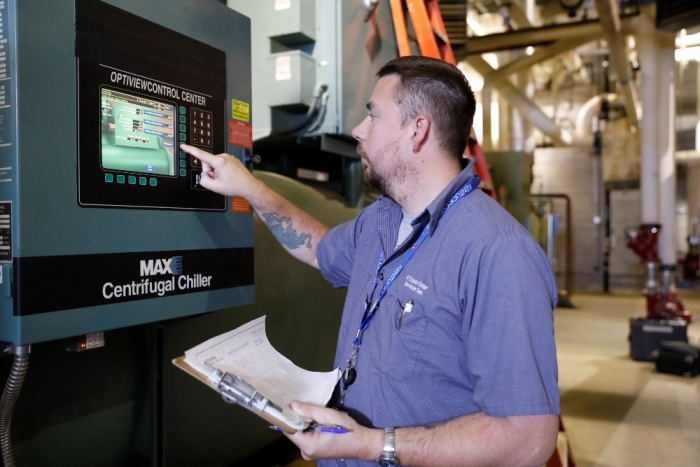 By replacing nearly 4,000 metal halide lighting fixtures in the facilities' exhibit halls with more energy-efficient fixtures, the expo center reduced its energy usage for lighting by half and its cooling load by 230 tons – and that's just one example.
KEC's improvements qualified for rebates from its local energy company, Louisville Gas and Electric Company, in total earning nearly $400,000 in rebates to date. 
"To remain competitive, it's important for us to continually improve and invest in our facilities. That includes making energy upgrades," said Ruth. "We appreciate LG&E working closely with us to identify facility upgrades. Rebates help reduce the first costs of equipment being replaced. We look at it as a discount to our projects." 
Visit lge-ku.com/rebate to learn more about Kentucky Exposition Center's improvements and how LG&E can partner with your business today. 
Apply Now
Be sure to have your account number and tax ID or social security number handy.