Ed Clark stared at the text message. He read it again, and he could feel the tears trying to escape from his eyes. The text was from his daughter, and the first part really grabbed him: My Dad, my hero, I love you so much. Please don't worry about me today.
​​​​​​Ed has worked for Kentucky Utilities for 24 years. As a lineman and a service technician, his job is to repair lines, clear trees, fix utility poles, or do what it takes to get power restored. "I really enjoy my job," he says with a smile.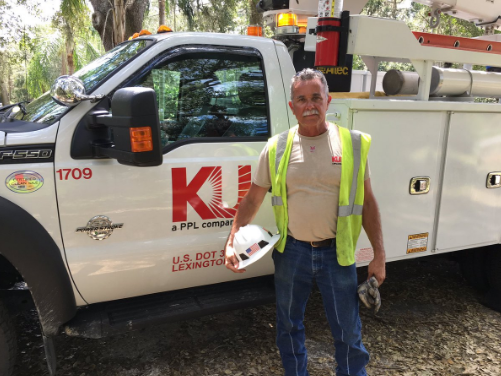 Ed is a member of a team of linemen based in Mt. Sterling that covers Montgomery, Bath and Rowan counties. But when massive storms batter other regions of the country, LG&E and KU crews travel voluntarily to those areas and help restore power as part of a mutual assistance effort.
The crews operate on a rotating schedule, and when Hurricane Harvey slammed into Texas, it wasn't Ed's turn, so he stayed home to cover any problems in Kentucky. But a monster hurricane named Irma was on its way toward Florida, and Ed eyed the calendar and watched the weather forecast. It was going to make landfall about Sept. 10.
The problem for Ed, however, was that his youngest daughter, Felicia, was set to be married in Frankfort on Sept. 16. Ed faced a major conflict: He wanted to do his job, but he couldn't miss his baby girl's wedding.  
Into the unknown
With Hurricane Irma still out at sea, in the early hours of Sept. 7, Ed and about 400 LG&E and KU line technicians, tree trimmers and additional support personnel left Kentucky to join other crews in Florida. Ed drove his big, white utility truck, which lineman call a "service bucket."
The highway going south was sparse and lonely, but a river of tightly packed headlights stretched out in front of Ed as far as he could see. Millions of people were heading away from the storm. Ed was heading toward it.  

"I know you've got to go," Felicia had told him before he left. "But I don't want to get married without you. I only want you to give me away at my wedding, Daddy, nobody else."
Ed told her that he might not make it back in time.
"We'll play it by ear," she said. She had a plan.
Hurricane Irma hit Florida and made its way north. Ed and the other KU crews rode out the remnants of the storm in a hotel south of Orlando. The wind drove hard against the windows, whipping the rain and stripping leaves from limbs, uprooting trees and yanking utility poles from the sodden earth.
"It was a mess," said Ed. When the weather cleared, the crews went to work. Every day, he would go full speed from 5 a.m. until 9 p.m.
The people without power would come from their homes to wave at them. They'd approach Ed and others and ask how long it would take.
"We got bombarded by people," said Ed. "You see someone who has gone without power for two, three days and you just tell them we're doing all we can. We'll get the lights on and we're not leaving until we do."
He knew this would be a lot of work. "There was still too much chaos, and we were just getting started." He called Felicia to let her know the bad news. Ed offered the idea of trying to get a flight or rent a car to go home, but she had nothing to do with that plan. She insisted he stay and do his job.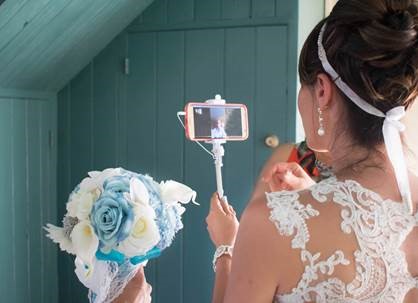 The day of the wedding came, and Felicia texted him just after lunch. She was set to be married early that night. All her family members, her friends, her loved ones would be gathered outside in a park along the riverbank in Frankfort, and everything was right except for one thing: Her daddy was more than 800 miles away.
Ed stood beside his truck, with trees torn down around him, his hair wet and his shirt dirty, and he stared at the message: My Dad, my hero, I love you so much. Please don't worry about me today. It's a happy day and I want you to know that I wouldn't be who I am without you, and nothing takes that away. I love you so much.
"I was pretty emotional at that point," he said. "There's a thing about being a dad. You don't want to let your children down."
But there was one more sentence to the text: See you at 5:30.​​​​
'You look beautiful'
Felicia had bought a selfie stick for her smartphone. Her mom, Clara, was going to carry the stick and walk down the aisle with her. Ed would be able to see everything, and Felicia would be able to see him, too.
Ed had planned on just stepping aside from his work, and maybe getting in his truck and pulling away from the crew. But word spread about the wedding, and when Ed's foreman and other crew members heard about it, they told him to go to the hotel, get a shower and take his time.
Ed did just that. He sat at a desk in his room with his phone in front of him. Then he saw Felicia, and she could see him. She wore a long white dress of lace and silk and drop earrings; her hair was up, encircled by a white ribbon.
"You look beautiful," he told her. "I am so proud of you."
The time came to begin the ceremony, and as the bride walked down the aisle, she could look over and see her dad, who was there, too, all via smartphone.
A Marine Corps buddy of Ed's officiated the ceremony. He asked the question, "Who gives this woman to be wed to this man?"
"Her mother and I do," said Ed, and he was right there with everyone, despite the vast distance between them.
After the wedding, Ed decided he should go celebrate. He found a place nearby where he could get a cold beer, and the locals asked him why he was there. "I'm celebrating my daughter's wedding," he said. When he told them his story, they all began to celebrate with him, and everyone wanted to buy him a drink.
​​​​​"I'm sorry," he told them. "But I have to get up and get back to work at 5 in the morning!"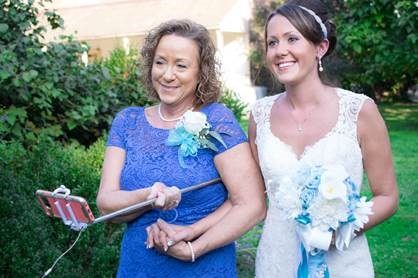 Making it work
Kentucky's crews finally headed home a week later. As he drove out of Florida, Ed saw hands waving from houses that had power once again, and he could hear the cheers and shouts of "Thank you!" from people on the sidewalks.
"That's the best part," he said. "Everybody's great, and you can see on their faces that they appreciate you."
Ed got home, and he was able hold his daughter tight and give her one piece of advice.
"I know you're planning to have a child one day, and I want to be there when that baby is born," he said. "But, whatever you do, please, just don't have that baby during hurricane season!"
She laughed, and Ed could see the joy in her eyes. But there was something more there, too. It was a sparkle that let him know she was proud of him, his job and his service to people in need of help.
"Nothing replaces me not actually being there in person at the wedding," Ed says. "But the way we made it work was priceless."