In 2016, 54 new companies and 257 expansion projects were announced, resulting in 16,190 jobs and $3.1 billion in investment.
Site Selection's annual Governor's Cup awards make 2016 the third consecutive year Kentucky has placed first or second in the per-capita competition. Numerous Kentucky metropolitan and micropolitan regions also placed on top-10 lists for their economic development achievements. As well, Kentucky ranked seventh nationally in total projects, beating out states of far greater size.
Kentucky exports reached a record $29.24 billion in 2016, with products and services going to nearly 200 countries.
Kentucky is home to not one, but two major air cargo hubs, ranking the state 3rd in the nation in total cargo.
Kentucky's industrial power costs rank 6th lowest in the U.S., and nearly 20 percent lower than the national average.
24 of the Fortune 50 largest U.S. corporations have operations in Kentucky. Why?
One reason is the excellent business climate, due in part to our competitive rates and award winning service, Kentucky's low relative business costs and an abundant supply of affordable labor.
Wal-Mart Stores Inc.
Chevron
Berkshire Hathaway
Phillips 66
General Motors
Ford Motor Company
General Electric Company
AT&T
Hewlett-Packard
J.P. Morgan Chase & Co.
Cardinal Health
International Business Machines
Kroger Company
Marathon Petroleum Company, LP
Archer Daniels Midland
Amerisource Bergen
Amazon
Wellpoint, Inc.
Johnson & Johnson
American International Group
Dow Chemical
Caterpillar, Inc.
United Parcel
Eight Fortune 1000 companies have their corporate headquarters in Kentucky:
Humana
Yum! Brands
Ashland
General Cable
Kindred Healthcare
Lexmark International
Brown-Forman
Temper Sealy International
Bridging a gap with the world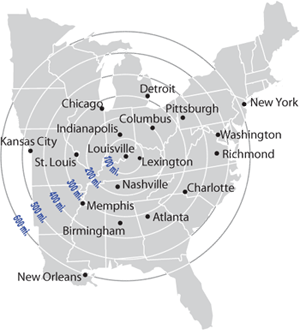 | City | Distance (mi) |
| --- | --- |
| Atlanta | 394 |
| Chicago | 200 |
| Cincinnati | 96 |
| Cleveland | 351 |
| Detroit | 360 |
| Indianapolis | 112 |
| Memphis | 369 |
| Nashville | 176 |
| Pittsburgh | 400 |
| St. Louis | 264 |
Kentucky is served by two international airports, Louisville International Airport and Greater Cincinnati/Northern Kentucky International Airport, which are air cargo hubs for UPS and DHL, respectively.
Five major interstate highways provide access to all North American markets. More than 2,500 miles of railroad track are used by Norfolk Southern, CSX, Paducah & Louisville, and Illinois Central. With more than 1,100 miles of commercially navigable waterways and six public ports on the Mississippi River, Kentucky offers low-cost intermodal transportation.