What is a riser?
The service riser is a piping component of the natural gas service line that protects the plastic gas service pipe as it transitions from below ground to above ground and from plastic to steel just upstream of LG&E's gas meter.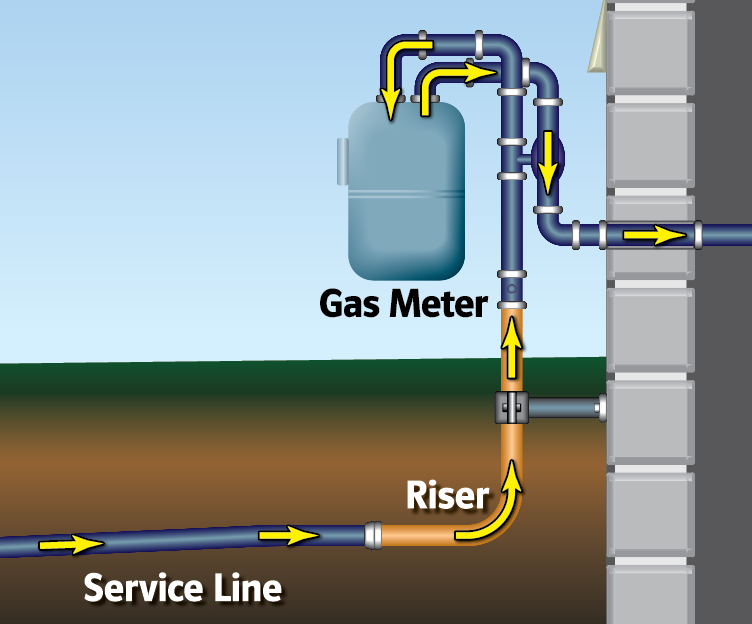 Will my gas service be turned off during the work?
We anticipate approximately two-thirds of our customers will need to have their gas service turned off for a short period of time (usually less than four hours) as a result of this project. If your natural gas service is turned off for this project, we will knock on your door. If no one is home at the time, we will turn off your natural gas service, perform the work then leave a notice on your door with instructions for getting your gas turned back on. Rest assured we will work hard to minimize any inconvenience to you, your family or your business operations.
What if LG&E finds a leak on my natural gas house line?
In keeping with our commitment to safety, LG&E will perform a test before — and after — inspecting your natural gas service and riser. If during that test we find a leak on your house lines, we will turn off your natural gas service and notify you of the steps to take to have the leak repaired.
LG&E cannot make the necessary repairs on your house lines because maintenance and repairs of the house lines are the customer's responsibility. LG&E will restore your natural gas service as quickly as possible once we are notified the repairs have been made and our test confirms the house line is no longer leaking.
Will I need to contact LG&E to schedule an appointment to have the inspection work done on my property?
Not necessarily. When inspection work is being performed between November and March, our on-site representative will leave a notice on your door letting you know crews are in the area doing inspection work. During the winter heating months (December through March), we will contact you to schedule an appointment to perform the inspection. If you receive a notice asking you to contact us to schedule an appointment, please contact the representative at the number provided to schedule your inspection.
Will I have to be home when the work is performed?
No. You will not need to be home during the actual inspection and construction work; however, you may want to coordinate with our on-site representative to provide access to your property in the event your service is turned off. When your gas is turned back on, you — or someone over the age of 18 — will need to be present so that our crews can enter your home to relight your natural gas appliances.
Will access to my home or business be impacted by the work?
Perhaps. Most of the work will be performed near your natural gas meter. As a result, we will not have to block the street or impede traffic flow. There may be times, however, when our trucks or heavy equipment will block the street. Crews will be on-site and can move to allow you to pass or access your driveway.
Will my street be torn up?
Not likely. Because most of the work will be performed near your natural gas meter, it is not likely we will need to do any work on the street.
Will my yard and/or landscaping be damaged?
Possibly. We will make every effort to minimize any disruption to your yard or landscaping. The work will primarily affect the area around your natural gas meter, but some small excavation work will be required if we have to replace your natural gas service riser.
Our crews will apply seed and straw to grassy areas in an effort to restore your yard to its original condition as soon as possible once we have finished working at your home. We will perform temporary repairs to asphalt, concrete sidewalks or driveways as soon as we finish working on your meter. Once the work is complete, we will schedule a separate crew to perform final restoration work.
If you have concerns about any specific landscaping or lawn ornaments, please talk with our on-site project representative before the crew starts work on your property. You will want to wait until we have completed our final restoration work before you place these items back in your yard.
What if I do not own the property?
Please forward any information you receive from us to your landlord or property management company. They need to be aware of the work, and we will need to coordinate with them and you to perform the work.
Can I choose not to have the inspection or repair work performed?
No. This inspection work is required to ensure we can continue to provide you and all of our customers with the safe, reliable natural gas service you have come to expect from LG&E. We appreciate your cooperation.
When will the work begin in my area?
We will notify you and your neighbors a week or so before we start to work in your area. As the project approaches your home, you may start to see paint and/or flags indicating the location of underground utilities in the area. Our crews will start to work soon around your home or business soon after the underground lines have been marked.
LG&E completed the work on my property and left temporary barricades. When will they come back to complete the restoration work?
LG&E will move to restore your property as quickly as possible — weather permitting — based on the availability of our restoration crews. We can achieve significant savings, which benefit you in the long run, by scheduling concrete and blacktop work all at once.
Who can answer questions during the project?
In most cases, you can speak with or call our on-site representative with any questions you have about the project. You should have received a business card or other piece of literature with the representative's contact information. If you did not receive a card or cannot locate the representative's contact information, you can email your question to gas.risers@lge-ku.com or call and leave a message at 502-333-1999.
Please include your name and contact number, and a project representative will respond to you within one business day.