LG&E and KU installs and maintains:
the electric distribution lines, poles, transformers and neutral lines within our rights of way.
the wire, known as a service drop, carrying electricity from our lines to the masthead on your home or business.
Customers are responsible for:
the masthead and meter socket to your home or business.
Additional telephone and/or cable lines are repaired/maintained by the local communications providers.
Power outages can occur at any time of year, most often in the spring and winter. When your electricity goes out, getting power restored quickly may require you to first make repairs to any customer owned electrical equipment that has been damaged.
To make you aware of which repairs are considered the homeowner's responsibility and which are the responsibility of the utility, the illustration below shows which aspects of your electric service are considered your property and which belong to us.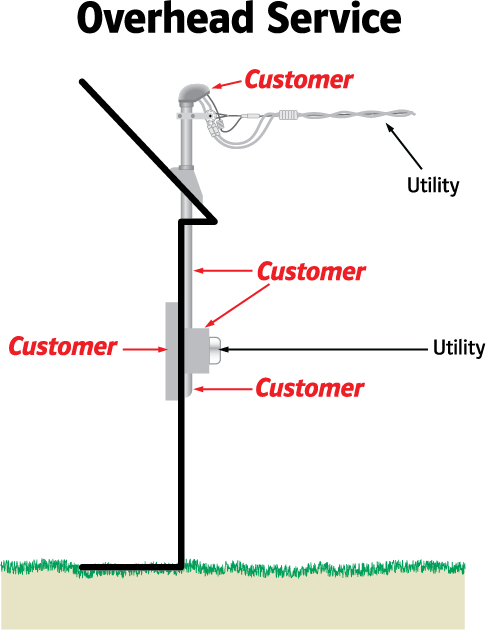 For overhead services, we are responsible for the cable that runs from the utility pole to your home. This wire is called a "service drop."
The service drop connects to your house at the "masthead," a vertical pipe-like structure attached to the top of the box that houses your electric meter. The masthead and the box which hold the meter are the homeowner's property and responsibility. Be sure the service box and the masthead are intact. The pipe should be securely attached to your house, and not separated, bent or pried from your home.
If you find damage to this area:
Call us and we will send a line technician as soon as possible to make the area safe.
Contact a licensed electrician to repair your damaged electrical equipment. The Better Business Bureau can provide you with a list of approved electrical repair contractors if you do not already know someone. You can access the Better Business Bureau's website at www.bbb.org.
Once your equipment is repaired and the necessary inspections are complete, contact us again to let us know your service has been repaired and inspected. We'll send a line technician to get your power back on as quickly as possible.
Note:
If the meter box is pulled away from your house and you have no power, you are responsible for contacting an electrician for a permanent fix. In most instances, an electrical inspection will be required before our crews can reconnect your service. Your electrician should be aware of what inspections are necessary and should advise you accordingly.
If the meter box is pulled away from the house and you have power, you still must call an electrician to re-attach the meter box. Again, an electrical inspection may be required.
The most important thing to keep in mind is that repairs must be made by a licensed electrician who should be able to advise you of what inspections are necessary. Likewise, your electrician should notify you when repairs are complete so you can contact us to have your service restored.