When you subscribe to our Solar Share program, you're helping grow solar energy in Kentucky. Whether you're in Louisville, Lexington, Maysville, Morganfield, Pineville or in between, residential, business and industrial customers across our LG&E and KU service territories have the opportunity to share in local solar energy and receive credits on their monthly bill.
Below is an aerial photo of the site which is located along Interstate 64 in Shelby County approximately two miles west of Exit 28. We're making great progress as the first section begins taking shape. The ground mounted frame is complete and the panels have been installed. Over the course of the next several weeks, we will install the final equipment needed before the first section begins generating power later this summer.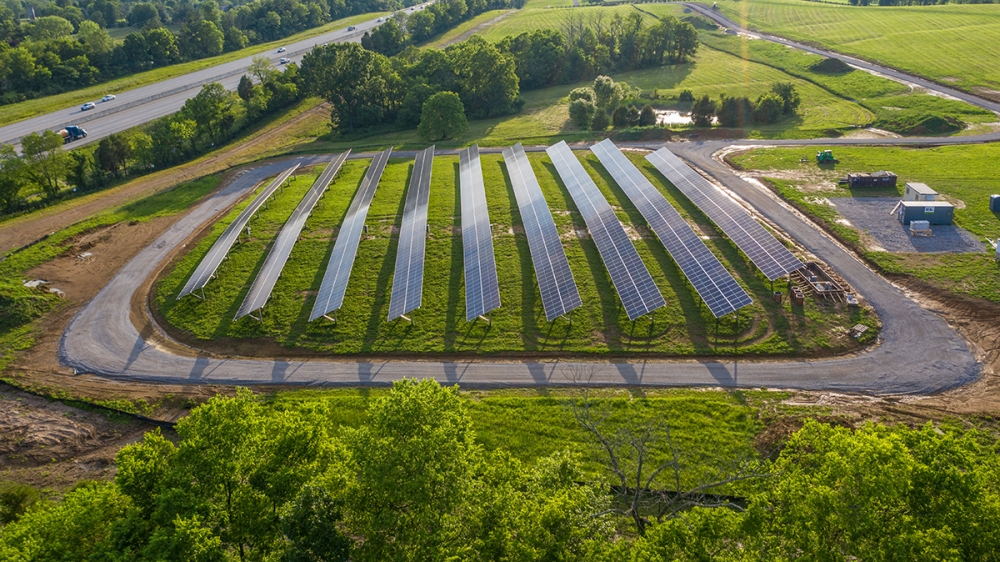 The four-board fence and new landscape buffers on the north and west side of the property along Conner Station Road blend with the surrounding area.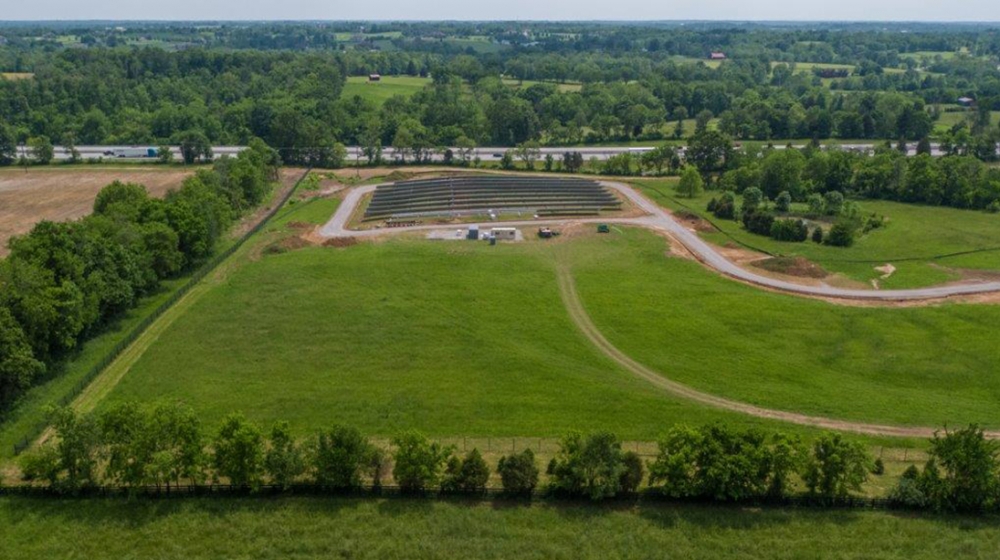 Below is a visual representation of the first section of the array which is being installed in the southeast corner of the property.
Subscribe to shares of solar on a first-come basis.
You can choose one or more shares based on your preference. Currently, each subscription includes a monthly fee of $5.55, per share of solar, with no start-up costs. The monthly fee is subject to change prospectively during the subscription period, but would only do so if approved by the Kentucky Public Service Commission.
The monthly payment structure requires a 12-month commitment from the date the solar charges appear on a customer's bill. If a customer leaves the program before the end of the 12-month period, the customer must pay the remainder of the monthly fees left to complete the original 12-month subscription. If a customer increases their number of shares during the original 12-month period, the 12-month commitment begins again at month one.
If a customer moves within the same service territory, their shares may be transferred to the new premise provided the customer notifies LG&E and KU of the transfer within 60 days of their move. If the customer does not transfer the shares within 60 days, the customer will be de-enrolled from the program.
Customers who subscribe 50 kW or more will be required to sign a five-year contract before their subscription is guaranteed.
In lieu of a monthly fee, customers now have the option to pay a one-time, non-refundable Solar Capacity Charge of $799 per share which covers the cost of that share for 25 years. This option is ideal for customers who don't want an ongoing monthly payment or for customers who want to "gift" their solar credits to another LG&E or KU customer (e.g. family, friend, or local school, church or organization). LG&E and KU will send customers an invoice for their one-time charge, and their shares will not be guaranteed until the Company has received payment in full. Once customer "gifts" a subscription to another customer, those shares cannot be transferred in any way or refunded.
Each 250-watt share of solar is currently estimated to produce between 18 and 38 kilowatt-hours of energy per month, depending on factors like weather conditions and time of year. A typical residential household uses approximately 1,100 kilowatt-hours of electricity each month.
Participating customers must have an Advanced Meter installed at their premises to access their solar data. LG&E and KU will install those meters at no additional cost.
This tab contains highlights of the program requirements. For the full terms and conditions of the program, please visit our tariff information below on Sheet Nos. 72-72.3:
Please note that the term "share" does not create or imply any ownership or investment interest.
This is not an energy savings program.
Step 1 – Choose a subscription level that is right for you using our Solar Share Calculator.
Step 2 – Enroll through our online form or by calling 800-356-5467.
Step 3 – Start supporting local solar and tell your family and friends!
Step 4 – After the array section that contains your subscribed shares begins to produce energy, track the solar generation data through our online dashboard available to all participants at no extra cost.
Avoid the up-front costs and long-term maintenance required for a private system.
This type of program is ideal for customers who want to support local solar energy, but are unable to install it on their own property or for whom a private system may be too costly. It's especially appealing for renters, those with properties predominantly in the shade and those who have deed restrictions.
Receive a credit on your monthly bill based on your subscription.
The Solar Energy Credit represents the monetary value of the solar energy that will be generated based on your subscription. This credit will vary each month based on the actual amount of solar energy generated by the facility. (More)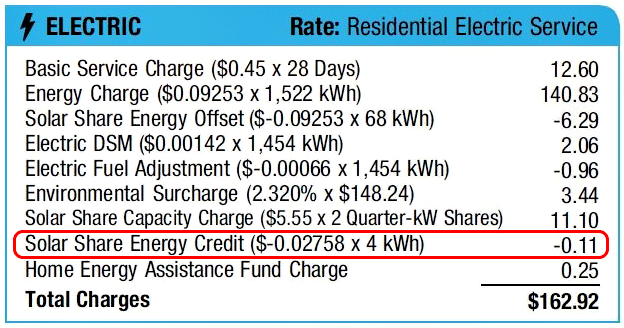 Support the growth of local solar energy.
Participating customers are contributing directly to growing solar energy in Kentucky.  
Solar Share Program status
Section 1
Together, we did it!
The first section within the Solar Share program is 100% subscribed and we're now taking enrollments for the second. Check in periodically for updates regarding construction plans on the first array.
The site, along Interstate 64 in the KU service territory near LG&E, is large enough to accommodate a four-megawatt solar field. The Solar Share facility will be built in eight 500-kilowatt sections, and each section represents 2,000 shares. The construction process will begin for each 500-kilowatt section after it is 100 percent subscribed.