Source Esri, DigitalGlobe, GeoEye, Earthstar Geographics, CNES/Airbus DS, USDA, USGS, AeroGRID, IGN, and the GIS User Community
LG&E is currently working on a project to construct a new natural gas transmission pipeline to serve Bullitt County. The new pipeline, which was approved by the Kentucky Public Service Commission in 2017, will enhance reliability for customers by creating an additional path for natural gas traveling through the system to residents and businesses in the area, reducing the chances of customers in the area experiencing an outage. In addition, the added capacity it provides will support continued growth and economic development within the region.
Pipeline specifications
The pipeline is expected to be about 12 inches in size and 12 miles in length – stretching from an existing LG&E natural gas transmission line in eastern Bullitt County to an existing LG&E distribution line near I-65 that is part of a gas distribution system that serves parts of Mt. Washington, Shepherdsville, Clermont and Lebanon Junction.
Current pipeline 
The existing distribution line, which serves more than 9,500 customers in the area, is nearing full capacity. The line can safely continue to serve the utility's existing customers; however, additional gas supply must be added to the system in order to serve any new or expanded requests for natural gas service from industrial, commercial, or residential customers in the area as well as in adjacent areas including Brooks, Hillview and Zoneton. Until the new pipeline can be constructed, new and expanded requests for natural gas service in the area are being evaluated on a case-by-case basis.
The transmission line was originally scheduled to be completed in 2019, but the project has encountered delays due to extended negotiations with a limited number of property owners during the surveying phase and easement compensation negotiations with property owners of the easements needed for construction. A tentative timeline for pipeline construction will be determined once all easements have been acquired and the construction contractor is selected. Once underway, construction is expected to take about 6-9 months.
For more information about the project, call 502-560-7434 or email.
Why is this pipeline needed now?
Bullitt County is experiencing exceptional growth and that is the exact reason why a new natural gas line is needed. In fact, according to the Bullitt County Economic Development Authority, the population in Bullitt County is increasing by more than 1,200 residents annually. This growth is adding 400 new homes and 1.2 million square feet of business space each year.
Can't you meet the area's growing energy needs in other ways?
The bottom line? Our current natural gas system that serves the area cannot reliably meet the needs of Bullitt County's ongoing and future growth and does not have the capacity to provide natural gas to the area's new homeowners and businesses. We are confident that this project, as currently planned, will meet the growing energy demands in the area in the least-cost fashion and is the least impactful to the environment.
How did you select the pipeline route? 
As we do with all other projects designed to safely and reliably serve our customers, we spent several years developing a route that would provide the greatest protections to natural habitats and ensure the most reasonable cost path for our customers.
We worked with the U.S. Army Corps of Engineers and the U.S. Fish and Wildlife Service to ensure that we are making decisions that protect threatened species and are least impactful to the environment.
That's why the proposed route – which, in part, runs alongside another utility company's existing right of way – was chosen as the best option given all of the considerations we faced.
How are you ensuring public safety?
The bottom line: safety is our top priority. That's why we continuously maintain and monitor more than 4,300 miles of natural gas distribution mains and nearly 400 miles of transmission pipelines.
When it comes to safety, we perform annual maintenance on critical mainline valves and have a program that inspects individual service line valves.
We use in-line inspection tools to assess the condition of our natural gas transmission pipelines, which are monitored 24/7 by a central control room, and make any needed repairs.
The new Bullitt County pipeline will be part of our comprehensive overall measures to our commitment of providing safe, reliable energy to the community.
LG&E's proposed Bullitt County natural gas transmission pipeline is designed to enhance reliability for existing customers and add much-needed capacity to the utility's existing natural gas distribution line in the area, which is at its limit and can no longer accommodate new and expanded requests for service. But despite its clearly defined need, thoughtful planning and approval by the Kentucky Public Service Commission, misinformation regarding the proposed pipeline project persists. Separate fact from fiction by checking out the project myth busters below.
Myth: LG&E kept the proposed pipeline path confidential in order to deceive customers.
Reality: LG&E initially requested the Kentucky Public Service Commission give confidential treatment to the proposed pipeline route included in filing documents in February 2017 because at that time, the route had not yet been finalized. The engineering and design work was just starting and the process of notifying property owners along the preliminary route in order to conduct surveys was beginning. The engineering, design work and surveys would ultimately provide the additional information needed to continue the easement acquisition process and for LG&E to finalize the route. As LG&E began contacting the landowners as part of the easement acquisition process and the final route was selected, the route became public knowledge.
Myth: LG&E carelessly chose to route a portion of the proposed pipeline through Bernheim Forest.
Reality: A route study is performed to determine potential paths for major pipeline projects such as this one. For this project, a third party engineering company performed a route study, and developed and analyzed multiple potential pipeline routes. Those routes were evaluated based on the ability to meet the objectives of enhancing reliability for existing customers; adding capacity to the existing system that will enable us to continue to serve future customers based on anticipated growth information provided by Bullitt County economic development officials; and the ability to construct the necessary infrastructure at the lowest reasonable cost. The route that best met those objectives was selected by LG&E as the final pipeline route.
When LG&E began the surveying process in March of 2017, discussions were with the prior owner of the two properties along the pipeline route that Bernheim later acquired in late 2018. It is LG&E's understanding that Bernheim was aware of the proposed pipeline route before it acquired the properties.
Myth: The proposed pipeline will tear through a large portion of untouched Bernheim property.
Reality: LG&E is requesting a 50 foot wide permanent easement on a portion of the property Bernheim purchased in late 2018. The easement requested is less than .03% of Bernheim's total land and the majority of that easement is designed to run 3/4 of a mile, alongside an existing electric transmission line and easement that has already been established by another utility and is regularly cleared of trees and vegetation. Locating utility infrastructure alongside that of other utilities is a routine part of our business that can be done safely and enables areas throughout the utility's service territory to be served with multiple utilities, both essential and other. Placing utilities in proximity to one another is often preferred in an effort to minimize the impact of the utilities on the surrounding community; this is one of the reasons this route was chosen.
After construction, Bernheim will continue to have use of the easement area. The project would cross Bernheim's two newest properties in an area completely disconnected from the Bernheim Arboretum and where public activities – such as bicycle trails, motorized vehicles paths or camping areas – are generally prohibited by an existing conservation easement.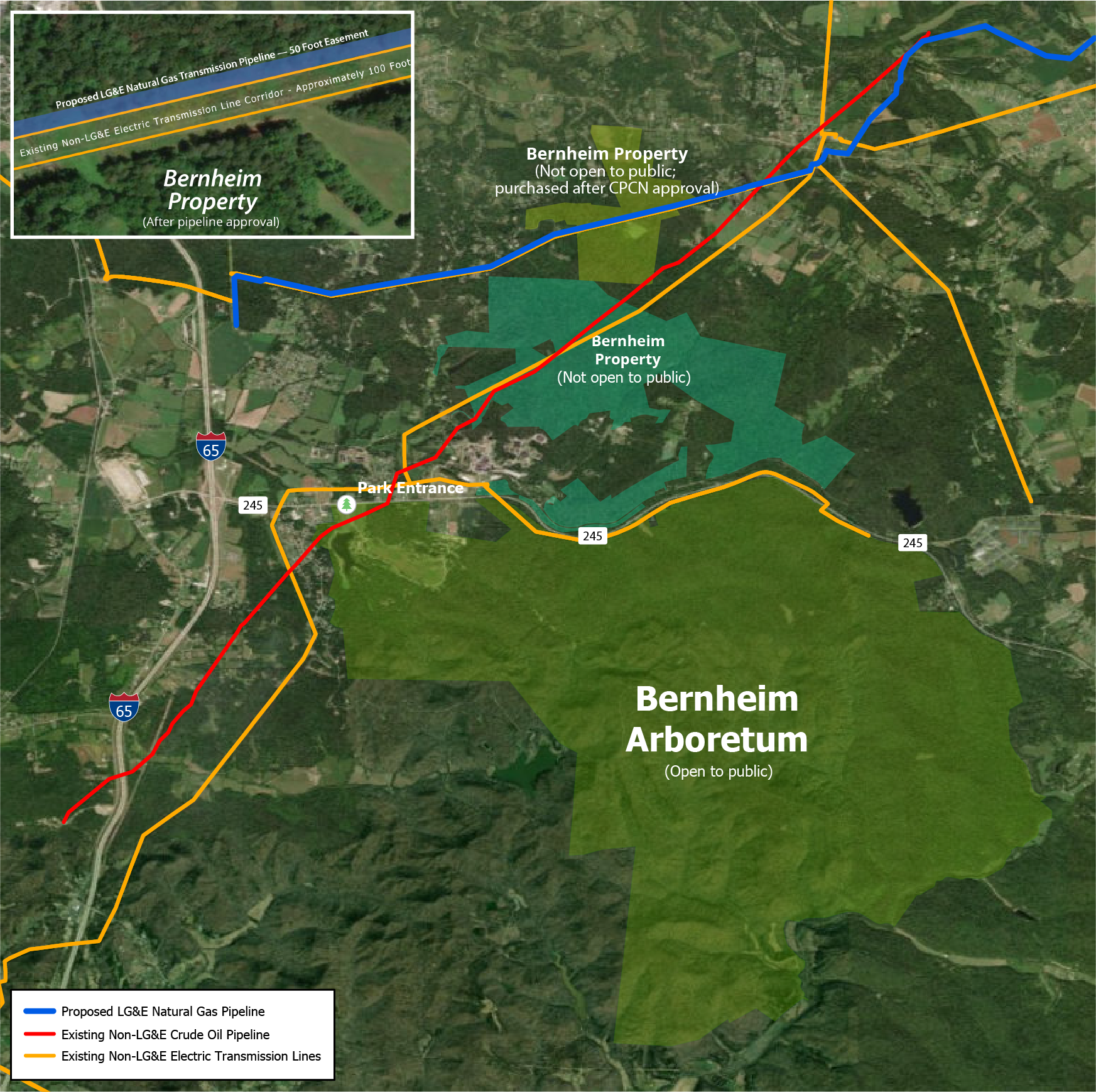 Myth: There are no other utilities using land in the area around Bernheim's previously existing or newly acquired properties.
Reality: An existing non-LG&E electric transmission line crosses Bernheim's newly acquired properties. In addition, multiple utility lines run through areas adjacent to the properties including other existing non-LG&E electric transmission lines and a 22-inch crude oil pipeline, which runs beneath the main entrance to Bernheim.
Myth: LG&E has not appropriately evaluated the pipeline's environmental impact to the area.
Reality: LG&E has and will submit applicable permits, which will be reviewed by appropriate agencies, such as the United States Army Corps of Engineers (USACE), the Kentucky Division of Water and transportation agencies, to ensure the pipeline is constructed according to applicable permitting requirements. Survey work performed by a third party was submitted as part of LG&E's permit applications and included surveys to determine the composition of the land in the area and to identify streams and native grasses within the project area. This information is evaluated by the permitting agencies, which also determine any mitigation necessary.
In addition, as part of its planning work on this project and others, LG&E takes measures to minimize various types of potential impacts where possible. Efforts on this project include routing the proposed natural gas transmission line parallel to existing utility easements where possible, avoiding critical Kentucky Glade Cress habitat and using appropriate construction practices when crossing streams within the project area.
Myth: Easements along the pipeline route will be completely unusable after its construction.
Reality: Once construction is complete, the pipeline easement will be restored. Property owners can drive vehicles over it and may continue to use it to do things like grow crops, pasture animals and other activities; so long as the activity does not include construction of buildings or create obstacles that restrict the utility's access to the infrastructure.
Myth: LG&E does not offer adequate compensation to property owners for easements necessary.
Reality: Acquiring temporary and permanent easements is a standard part of preliminary work when utility construction must cross landowners' properties. As part of our process, LG&E consults with a third-party appraiser to understand property values in the area of the project and considers a number of different factors – such as the acreage of the easement and how the easement will impact the property as a whole – when determining compensation offered for easements necessary for construction. Even then, the compensation offer is negotiable.
Myth: LG&E plans to use drilling to produce gas from land in Bullitt County.
Reality: LG&E is not a producer of natural gas and will not produce natural gas in Bullitt County.
Myth: The pipeline will include the creation of natural gas storage fields in the area.
Reality: While LG&E maintains five natural gas storage fields, we have no plans for an additional natural gas storage field as part of this project. As filed with and approved by the KPSC and filed with permitting agencies, this project strictly involves the construction of a natural gas transmission pipeline to transport natural gas to serve LG&E's existing customers and add capacity for new and expanded natural gas service requests.
Myth: The proposed pipeline work is unprecedented.
Reality: LG&E's natural gas distribution system in Bullitt County has been in place for more than 50 years. Initially built in the early 1960s to serve the Mt. Washington area, the original distribution line has grown with the surrounding community. Throughout the mid and late-60s the line was extended in order to serve growth in the Shepherdsville and Clermont areas, then grew again in the mid-90s as its service expanded to Clermont and Lebanon Junction. In the mid-2000s, LG&E upgraded the natural distribution system to the Bullitt County area, enabling more gas to travel through the line to the increasing number of customers receiving service from it. With anticipated growth information from the Bullitt County Economic Development Authority, growth projections from the Bullitt County Fiscal Court and information from the state data center and other sources, the need for a new natural gas transmission line to help meet demand became apparent in 2016.
How are you supporting and protecting Bernheim?
We've been long-time supporters of Bernheim, from funding tree-plantings on-site to the sponsorship of "Forest Giants in a Giant Forest." All of us appreciate the importance of Bernheim to the entire community. With respect to the pipeline's limited route in the non-public area of Bernheim, here are facts that have been widely misunderstood:
Only a small portion of the proposed pipeline – about 4,000 feet, or less than a mile – will run alongside an existing electric transmission line on property Bernheim acquired after approval for the pipeline was given by the Kentucky Public Service Commission and more than a year and a half after property discussions began.
The pipeline route is completely disconnected from Bernheim's recreational areas that are open to the public and only makes up .03% of Bernheim's total footprint.
Importantly, Bernheim will continue to have use of the area after construction.