If you are beginning a construction project or upgrading existing electric and/or gas facilities, choose the project description and enter the zip code for the area you are developing or renovating.
The contact person for the area will coordinate your utility installation and guide you through the process.
Gas Emergencies / Gas Odor / Gas Leaks
(502) 589-1444, Outside Louisville: 1-800-331-7370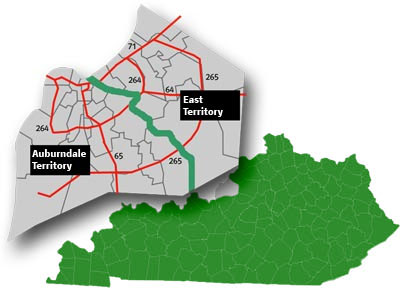 Place your mouse over the map areas to reveal the list of zip codes for that area.
Contact By Phone
If you prefer to call for assistance, the information below will ensure you reach the LG&E employee who can help you with your project:
For project status updates and a directory of Design and Contract Services, call 502-333-1864.
To reach Dave French, LG&E's Louisville Homebuilders Association representative, call 502-627-4783
Dave serves as the liaison between LG&E and the Louisville Homebuilders Association.
For issues related to Design and Engineering, contact:

Henry Ford - Auburndale and East Operations Center Team Leader - 502-364-8228
Henry's group includes electric service locators, overhead/underground design group and contract coordinators.

Bill Harper - Manager, Engineering Design Services - 502-333-1818



Call 811 before you dig.

Before you dig, call Kentucky 811 and they will coordinate with Kentucky 811 member utilities in your area to have underground utility lines marked at no cost to you.