LG&E and KU offer business customers the opportunity to host charging stations.
Business customers may host one or more charging stations to be located anywhere on their property. As a station host, It is up to the station host to determine if the hosted stations will be publicly or privately accessible.
The stations include space for customer branding and have charging plugs that lock in the stand when not in use. The stations also have digital display screens and quick-pay options for a low effort customer experience.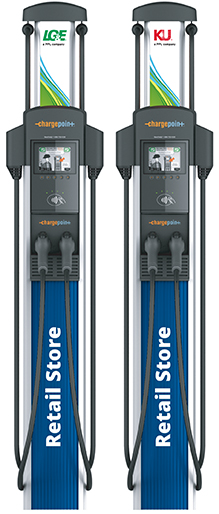 Requirements
Station host must agree to host the station(s) for at least 5 years.
Station host must bear the costs of the stations, including maintenance, installation and energy usage. These costs are covered via an initial installation fee and an ongoing monthly hosting fee.
Request to become a charging station host
Please complete our online form, and we'll contact you to learn more about your business location and discuss available options. Please allow two business days for us to respond.
Available Charging Station Options
For business customers interested in becoming a host location, the company will offer Level 2 charging stations through our business partner.
Model
ChargePoint® CT4000 Station
Charging Type

Single or dual Level 2 charging ports with locking holsters

Bollard or wall-mount options

6-foot tall with 18-foot cord

Power Range
Up to 25 miles of range per hour of charging (or 7.2 kilowatt power supply)
Fees
Initial installation and monthly hosting fees
Business Partners
Business Partners
YUM! Brands
Yum! Brands became the utilities' first commercial customer to host charging stations for employees at its Louisville campus.

Hilton Garden Inn
Hilton Garden Inn became the utilities' second commercial customer to host a charging station at their St. Mathews location.