Strong support continues for local solar energy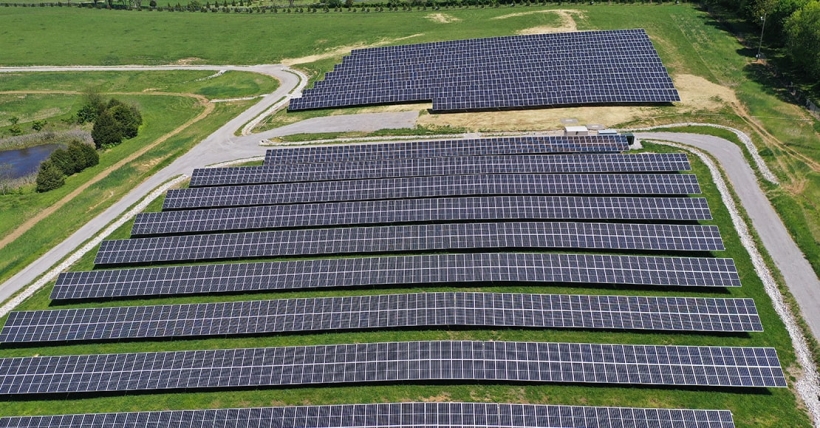 Our Solar Share program is rolling merrily along. Our second section (of eight) recently began generating energy from the sun at the site located just off I-64 in Shelby County. With the addition of the new 1,300-panel array, customers participating in the program are now helping produce a total of one megawatt of local solar energy – with more room to grow. The third array is more than halfway subscribed and will be constructed after we reach 100% subscription.
As evidenced by the growing number of subscribers – a nice mix of our residential, business and nonprofit organization customers – Solar Share is popular with those who have a desire to support local solar energy but wish to avoid the significant upfront expense of installing and maintaining a private system.
Subscribers select a subscription level and pay a monthly cost of $5.55 per 250-watt share of solar. This equates to less than 20 cents a day. There is also an option to pay a one-time fee of $799, which covers the cost for 25 years of participation in the program. There are no other fees or charges. Each month subscribers receive credits on their monthly bills based on their subscription levels and the amount of energy produced by the Solar Share facility.
Among the nonprofit and business subscribers within the second section are Kentucky Habitat for Humanity (KYHFH) and Centre College. Through the program's new gifting option, KYHFH is passing along its solar energy credits from 185 shares of the program to 10 families. This will help those families offset as much as 30% of their monthly energy usage, making their homes more affordable.
The Solar Share program is available to KU and LG&E customers and signing up is easy. Just visit lge-ku.com/solar-share to get started. While there, check out the new aerial footage and our solar energy dashboard, which shows in real time how much solar energy is being generated for our growing number of program participants.
Sign up for the Power Source Newsletter