Coming Up
Energy Yardstick
Dashboard Views – Chart and Data
Kilowatts versus Dollars View
Compare by Hour, Day, Week, Month
Data Security
Neighborhood Comparison
Secondary User
---
April 2019
Which Residential Electric Rate[1] is Best for You?
Getting the best rate possible for your energy usage is a good thing, right? One of the cool new features within your MyMeter dashboard is the Rate Comparison Tool. It will show you the rate option that gives you the greatest savings based on your actual energy usage:  Should you remain on the Standard Electric Rate or consider switching to one of our Time-of-Day Rates?
Standard Electric Rate:  You are charged the same amount for electricity no matter when you use it.
Time-of-Day Rates:  These rates vary based on how and when you use energy, whether it's during peak hours or off-peak hours. Peak hours have a higher charge per kilowatt-hour.
To locate the Rate Comparison Tool, click on the gear box symbol in any of the widget boxes at the top of your MyMeter page. Select Rate Comparison, and the Rate Comparison widget will display.
To compare rates, use the sliding scale within the Rate Comparison Tool to select a date range then click Compare Rates.
[1] Currently this tool is only available for residential customers that are not on net metering rates.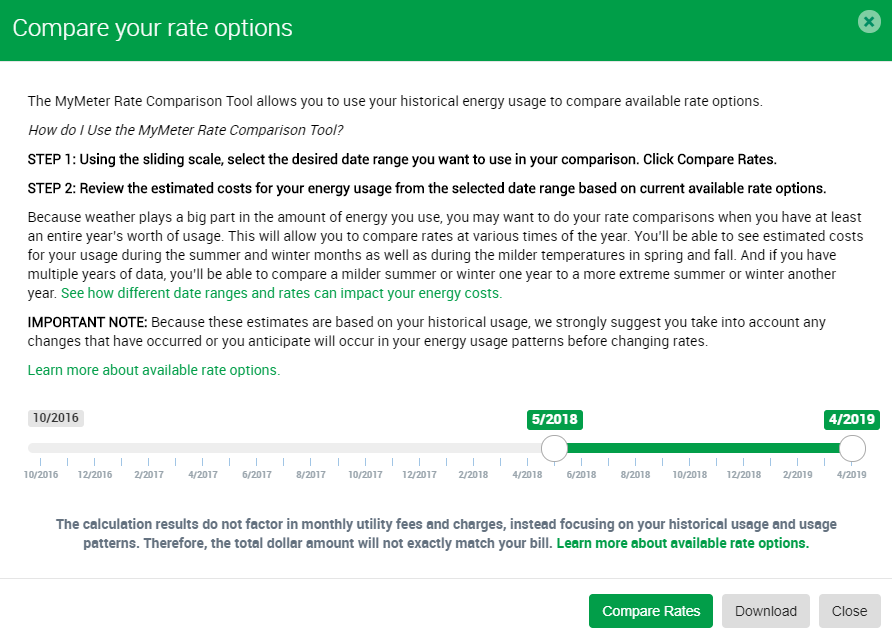 We recommend you research all available options and compare your energy usage within several date ranges. It's best if you have 12 months of usage so you can compare over different seasons. It's also important to make note of changes that may have occurred in your household (new baby, child went away to college) or in the weather (milder winter one year but a harsh winter the next). You'll want to be mindful of any changes that have occurred or you anticipate will occur in your energy usage patterns before making a decision to change energy rates.
---
March 2019
Create an Energy Marker™ in your MyMeter dashboard. The Energy Marker allows you to track activities that can impact your energy usage, such as simply changing out light bulbs or something major, such as getting a new HVAC system. Just create a customized date reminder on the day you make those changes and see how they affect your energy consumption over a period of time. Click HERE to watch a short video about Energy Markers.