We are fortunate to live in a picturesque part of the country with rolling hills, rugged mountains and lots of trees.
Trees are a valuable and beautiful asset that complement our landscape and provide food and shelter to birds and other wildlife. Depending on the type of trees and where they are planted, they also shade our homes from the hot sun, block blustery winds and reduce our energy needs during extreme temperatures.
However, when trees are planted without regard to their surroundings, or are not properly maintained, they can create serious issues that grow worse each year. They can cause property damage, create safety hazards, and disrupt utility service.
At LG&E and KU, we strive to provide you with safe, reliable service 24 hours a day, 7 days a week. One of the most common – and critical – ways we do that is by clearing trees and other vegetation that has grown too close to overhead power lines. This is referred to as right-of-way clearing or vegetation management.
A large number of the service interruptions that occur on our system are caused by trees, tree limbs or other vegetation that grew too close to overhead power lines.
Clearing trees, limbs and brush away from overhead power lines:
helps create a safer environment for everyone
maintains the reliable electric service you expect and deserve
allows our crews to detect and repair issues that impact service
We conduct right-of-way clearing throughout our service area on a consistent and planned cycle.

Transmission and distribution lines are vital to the electric grid. Simply put, these power lines incorporate different voltages of power as it is transmitted from generating stations to substations and ultimately to customers.
Transmission
Transmission lines can be compared to interstate highways as they carry electricity across great distances from generating stations to primary substations. Transmission lines are installed on large structures, and the company's transmission system consists of 69,000 volt through 500,000 volt lines and moves power from power generation plants to substations.
Trees must grow far enough from the conductors that they won't hurt or harm individuals or cause a disruption to electric service. Vegetation that has the potential to grow taller than 10' will be removed.

Planting guidelines near transmission lines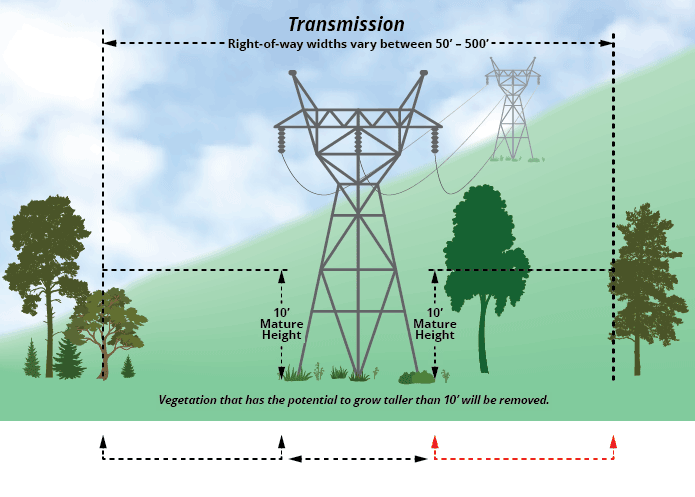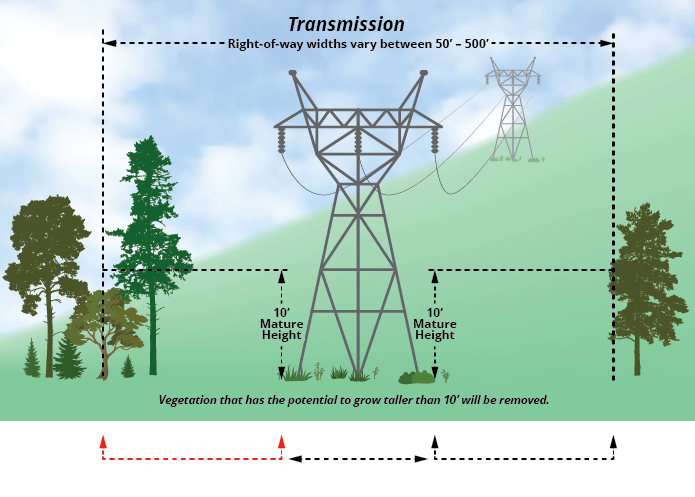 Distribution
Distribution lines and equipment carry electricity from local substations to customers' homes and businesses. These lines are often found overhead on utility poles but are sometimes located underground. The most common voltage for electricity being moved along distribution lines is 12,470 volts.
LG&E and KU maintain hundreds of miles of overhead distribution power lines. Trees can pose a serious safety hazard and reliability threat to these lines if they are not maintained. Overhead distribution lines are the ones that most often experience outages related to trees and other vegetation.
For underground electric service, we need to keep as much open space as possible around the pad-mounted transformers that deliver electricity to the home or business. The pad-mounted transformer is the rectangular green box located near a property line. In order to provide easy access for LG&E and KU to get inside the transformer to perform any necessary repairs or maintenance, we advise you to keep the area free from obstructions, and to provide adequate access, work and safety clearances.
Planting guidelines for planting near overhead distribution lines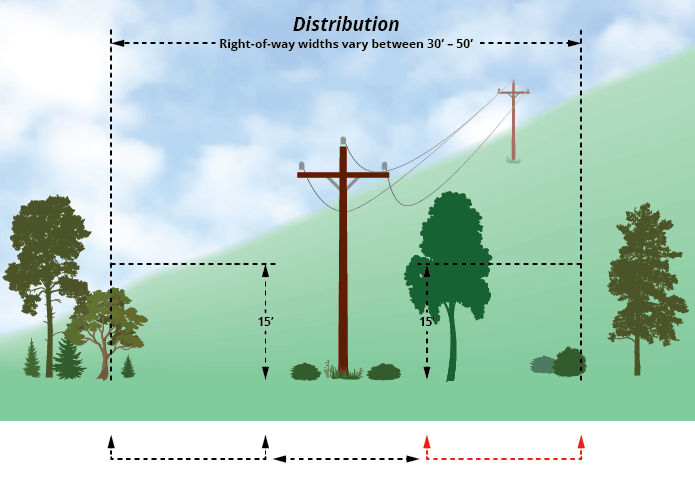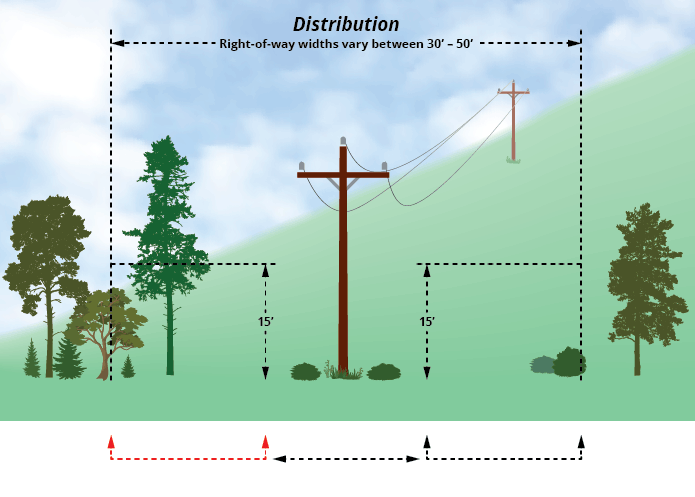 Avoid Planting in the Wrong Place

Helpful Resources
Safety Tips for Planting Near Power Lines: