In April 2013, LG&E began a five-year inspection program focusing on natural gas service risers and meter piping. LG&E will repair or upgrade the service to address any deficiencies identified during the inspection.
What to expect
You may start to see paint and/or flags marking the location of underground utilities in and around your yard or neighborhood. Kentucky law requires that all underground utilities be marked prior to beginning any digging or excavation work. This allows excavators to dig with confidence near facilities they need to access, and it makes them aware of other underground utilities that are not associated with the work they are performing.
To complete the work as quickly as possible and minimize any inconvenience, crews will work during daylight hours as much as possible. On weekdays, crews may work from 7 a.m. until 9 p.m. On weekends, they will not start work before 8 a.m.
In some cases, our crews will need to dig into pavement or sidewalks. When we do, we will place a temporary fill or barricade in or over the hole as a safety precaution. We will bring in additional crews within a few days after the work is finished to restore the pavement or sidewalk to its previous — or better — condition.
Warmer months (April through November)
Residential Customers: If your natural gas service needs to be interrupted, an LG&E representative will knock on your door to let you know. If no one answers the door, the crew will turn off your natural gas service, perform the work, then leave a notice on your door with the steps you need to take to have your gas turned back on.
Commercial/Multi-Family Dwellings: Our crews will coordinate with the business or property owner or property management personnel to schedule any necessary natural gas service interruptions.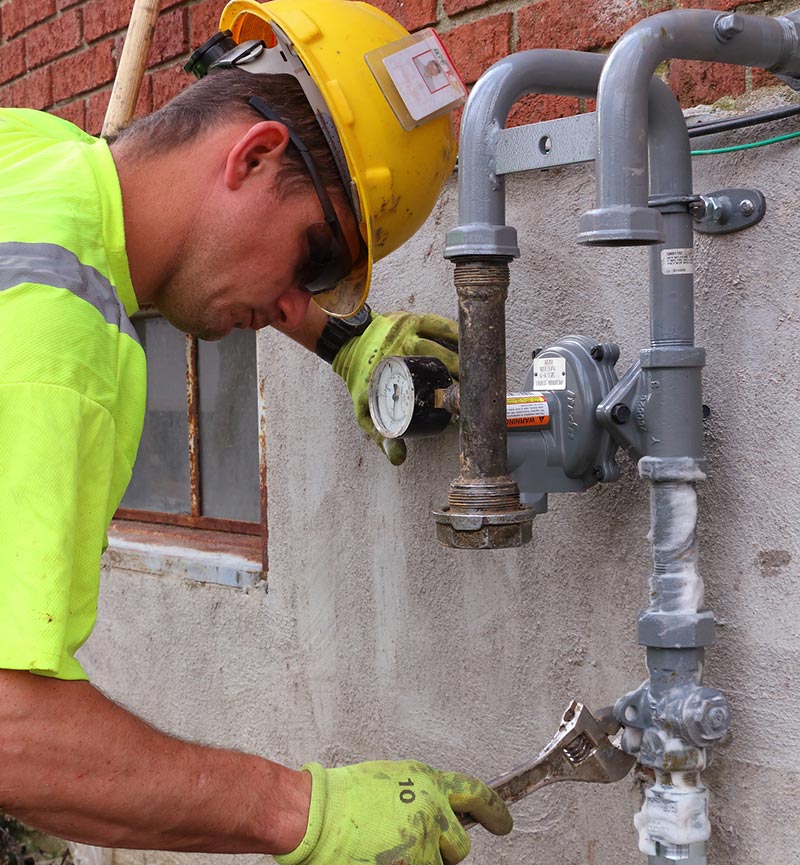 Colder months (December through March)
An LG&E representative will schedule an appointment to perform any necessary work.
In all cases, we will work to minimize parking and traffic disruptions; however, trucks and heavy equipment will be necessary to perform the work so we ask that you be mindful of safety as you travel in the area. If your gas meter is next to a driveway, you may not be able to use the driveway while work is being performed.
Service riser replacement
If your natural gas service riser needs to be replaced, crews will turn your natural gas off while they perform the work. After the riser has been replaced, an LG&E representative will need to enter your home or business to relight your natural gas appliances. Someone over the age of 18 must be present when our representative enters your home.
Testing of house lines
The "house lines" are the pipes that run from the gas meter to each of your appliances. The house lines must be tested before your gas can be turned back on.
What if a leak is detected on my house lines? If a leak is detected on your house lines, your gas service must remain off for safety reasons. Your gas will remain off until you can complete the necessary repairs. This work is not something LG&E can do because the customer owns and is responsible for the natural gas house lines.